A tumultuous year at the Senedd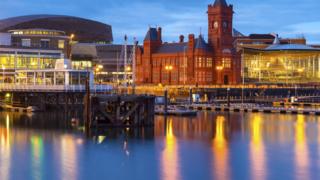 When Questions to the First Minister returned to the Senedd on 10 January, Brexit, the NHS and steel were top of the agenda, setting the tone for the coming months.
On 17 January, AMs backed the UK Government's Wales Bill, meaning the next stage of devolution could become law.
The Wales Bill transfers powers over tax, energy, transport and the assembly's own affairs, but there were claims it would reduce AMs' law-making powers.
First Minister Carwyn Jones recommended AMs vote for the bill, saying it could be improved but "takes Wales forward".
But Plaid Cymru leader Leanne Wood suggested Wales had been "backed into a corner" over the legislation. The vote was 38-17 in favour of the bill.
Power
On 18 January, a power cut brought proceedings in the Senedd to a temporary halt - ironically just after a debate on the National Grid.
In February, Rural Affairs Secretary Lesley Griffiths warned AMs the Welsh lamb industry could be destroyed by a free trade deal with New Zealand after Brexit. "If we have this huge influx of New Zealand lamb it will absolutely destroy the Welsh lamb industry," she said.
On 7 February, AMs rejected a Plaid Cymru attempt to oppose the triggering of Article 50.
The party called for the assembly to oppose the start of the Brexit process unless assurances were given over Wales' participation in the single market.
But Labour, UKIP and the Tories rejected the move, which was only advisory and would not have affected the process.
Does the first minister deserve credit for this pun? "At some point, whether we like it or not, the UK government will have to put all its asks in one Brexit".
Also in February, the Communities Secretary Carl Sargeant announced that Communities First, the flagship policy aimed at boosting deprived communities, would be phased out.
Mr Sargeant said: "While it is clear that Communities First was successful in its impact on many individuals, it has not had an impact on overall poverty levels in these communities, which remain stubbornly high."
On 21 March, Carwyn Jones celebrated his 50th birthday:
The following day proceedings in the Senedd were adjourned in light of the Westminster terror incident.
UKIP's Neil Hamilton apologised after AMs heard him say "suicide is an option" while Labour's Eluned Morgan spoke of her sadness at the triggering of Brexit under Article 50.
In April, AMs passed the final text of the Land Transaction Tax and Anti-avoidance of Devolved Taxes (Wales) Bill. Officials said the 220 page document is the longest piece of legislation Welsh ministers have produced.
Stamp duty will be replaced in Wales by the land transaction tax in April 2018.
Defection
UKIP AM Mark Reckless defected from UKIP, becoming an independent AM who is part of the Conservative group. He caused a stir when he spoke for the first time in the Siambr since the move, criticising Labour over its borrowing pledge.
In May, AMs passed the Public Health (Wales) Bill, at the second attempt.
The first attempt was defeated in March last year after comments by the then Public Services Minister Leighton Andrews that a previous deal with Plaid Cymru was a "cheap date", leading them to reject it as a group in dramatic scenes. The bill was reintroduced to the Senedd with the e-cigarette element dropped after the assembly election.
The bill's original proposed ban on smoking in school grounds, hospital grounds and public playgrounds was extended to the outdoor areas of registered childcare settings.
Proposals on prohibiting the "intimate piercing" of the tongue and genitalia of under-16 year olds were also toughened up to cover all of those under the age of 18.
Other measures in the law include creating a mandatory licensing scheme for acupuncture, body piercing, electrolysis and tattooing.
The local and general election campaigns inevitably loomed large in assembly debates, and Labour outperformed expectations in Wales.
Carwyn Jones is generally credited with leading an effective general election campaign under the 'Welsh Labour' branding. He had a good year for three quarters of it.
But Jeremy Corbyn arguably deserves most credit for Labour's electoral success in Wales, and Carwyn Jones - like most others - failed to foresee this.
Also in May AMs paid tributes to former First Minister Rhodri Morgan who died aged 77. His widow Julie Morgan said the tributes were "very comforting".
Before the summer recess, AMs gave final approval to the Trade Union (Wales) Bill, which is intended to ensure restrictions making it harder to call strikes, brought in by the UK Government's Trade Union Act, will not apply to Welsh public services. The debates on this bill involved plenty of good old fashioned left-right politics.
Around the 20th anniversary of the Yes vote that brought devolution to Wales in September, First Minister Carwyn Jones said the EU Withdrawal Bill is "not fit for purpose" and called for a bill that "works with, not against, devolution".
Later that month, Education Secretary Kirsty Williams announced that a big shake-up in what is taught in classrooms in Wales will be introduced a year later than originally planned, and independent AM Lord Elis-Thomas escaped disciplinary action for using the term "right wing shits" about his former colleagues in the Siambr.
In October, Plaid Cymru agreed to back the Labour-led Welsh Government's budget for the next two years.
The deal, said to be worth £210m, includes £40m to boost mental health funding and £40m for higher and further education between 2018 and 2020.
As autumn fell, the allegations of sexual harassment that engulfed Westminster politics also threw a shadow over Cardiff Bay, with the Llywydd Elin Jones ordering a review of how complaints of sexual harassment are dealt with by the assembly.
Party leaders subsequently agreed that all allegations of inappropriate behaviour by AMs should be referred to the Welsh Assembly standards commissioner.
The profound sense of shock and sorrow that overwhelmed Cardiff Bay and far beyond following the death of Carl Sargeant began a tumultuous period that Welsh politics had not seen before.
Mr Sargeant was found dead four days after he was sacked as communities secretary by Carwyn Jones, pending an investigation into allegations of "unwanted attention, inappropriate touching or groping" towards women.
Soon after the tributes, attention turned to how the first minister handled the issue. An independent inquiry will now be held.
Carwyn Jones has referred himself to another independent inquiry into claims of bullying in the Welsh Government dating back to 2014. Ex-minister Leighton Andrews and former adviser Steve Jones alleged there was bullying and a "toxic" atmosphere in the previous Welsh Government.
Carwyn Jones has spent much of the political capital accrued during the year and his leadership is under a cloud. How can he draw a line under the serious issues raised?
The reshuffle in which Carl Sargeant left the Cabinet saw other major changes to the Welsh Government, including the longest serving UK minister Jane Hutt losing her role, and the appointment of former Plaid Cymru leader and now independent AM Lord Dafydd Elis-Thomas as minister for culture, tourism and sport.
Neil Hamilton, who is 69, congratulated Lord Elis-Thomas, aged 71, in the Siambr by stating "I'm pleased that this country seems to be enjoying a kind of geriatric efflorescence.
"The Liberals are now led by a 74-year-old [Sir Vince Cable], I'm the same age as Jeremy Corbyn - 69 - and others of our vintage are still pulling their weight in politics, and I'm delighted that Dafydd Elis-Thomas is now a member of the Government".
Other legislation to be passed this year included the Abolition of the Right to Buy Bill. The Welsh Government hopes ending the policy will reduce pressure on social housing but the Conservatives say Labour ministers have caused the shortages by not increasing the supply of housing.
Several AMs found themselves in the headlines for the wrong reasons this year. UKIP AM Michelle Brown denied an accusation by a Cardiff Bay hotel that she smoked "recreational drugs" in her bedroom there.
South Wales Central AM Neil McEvoy was censured for breaching the AMs' code of conduct for using assembly facilities for party-political campaigning. Mr McEvoy was suspended from the Plaid Cymru group in March - a suspension that was later lifted, and then reinstated for undermining the party's "unity and integrity", including its policy on tenants' right to buy council houses.
North Wales independent AM Nathan Gill has been accused of betraying voters by failing to attend assembly proceedings.
Matters were put in perspective by the news that Plaid Cymru AM Steffan Lewis, the youngest AM at 33, is seriously ill with cancer. As the party's Brexit spokesman, he has spoken about "the omniuncertainty we are facing" as a result of Brexit.
2.5 million words
Some 2.5 million words were spoken in the 68 plenary sessions in 2017, and according to research by Newsdirect, the top ten talked-about topics were Health (a word that occurred 5,902 times in the Record of Proceedings), Children (3,542), Care (3,299), Education (3,229), Authorities (2,462), Economy (2,418), Funding (2,373), Schools (1,995), Tax (1,937), and Housing (1,753).
The final plenary of 2017 ended with another UKIP controversy - a row over Gareth Bennett's speech about transgender rights, in which he warned society could "implode" if there was too much "deviation from the norm".
After this momentous year, does anyone know what the norm is in Welsh politics anymore?