Week ahead in Parliament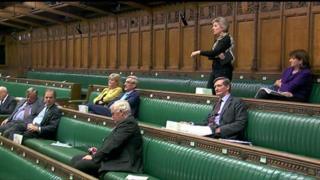 Paper Tigers, or a lurking threat?
There has been much talk of the possibility of an uprising of pro-EU Tory backbenchers threatening the government majority as the EU (Withdrawal) Bill inches through its committee stage, but as each flashpoint comes, and goes, they remain quiescent (apart from Ken Clarke, anyway).
Now, with key issues due for debate on the scrutiny of Henry VIII powers and a bill to enact the final Brexit deal, might their moment have arrived?
The first point to make is that the influence they have already exerted should not be under-estimated; the threat they pose has already pushed ministers into accepting that they need a full-dress piece of legislation to enact the final Brexit deal, which is a pretty major concession, and the government is now backing a Procedure Committee proposal for a scrutiny committee to oversee those sweeping Henry VIII powers.
The context is that Tory MPs are deeply reluctant to take any step that could destabilise the government - and that their whips are doing their best to ensure they don't find themselves cornered into doing so.
The other point is that - as the DUP so vividly demonstrated, this week - 10 government MPs would be enough to force their leadership into a mid-air reverse ferret, so there's safety in numbers.
If enough of them jump together, government has to come to terms and would probably not dare impose a collective punishment, at least not immediately. So the Tory dissidents' colleagues in the cross-party pro-EU alliance have to avoid expressing frustration, bite their lips and hope they will one day make their move.... but they're not holding their breath.
Away from Brexit, there are important changes to the Data Protection Bill afoot in the Lords and there's plenty of interesting Westminster Hall action - watch out for the Labour MP Jess Phillips on funding for domestic violence refuges and Zac Goldsmith's animal welfare debate, which could presage the announcement of an incoming Animal Welfare Bill from Environment Secretary Michael Gove.
Here's my rundown of the week ahead:
Monday
The Commons opens (2.30pm) with Education questions, with the probability of a major statement by the prime minister on the Brexit negotiations at 3.30pm.
Watch the reaction from the different Brexit tribes very closely - do the Brexiteers see this as a win? Are the Tory mainstream rallying round to hail success, or not? Do the soft-Brexit/pro EU Tories sense an opportunity to keep Britain in the customs union? How warm, or chilly, is the DUP response? And where do Labour position themselves now? Will Sir Keir Starmer start laying down conditions for a trade deal, or will Labour seek to keep all tactical options open?
That might postpone the second reading debate on the Finance Bill - the measure which enacts the Budget - for some hours. Labour, the SNP and the Lib Dems have all offered up amendments to decline the bill a second reading, but there is also a backbench amendment spearheaded by Labour's Stella Creasy, which has attracted 73 signatures, including Vince Cable, the SNP's Angus Brendan MacNeil, Caroline Lucas, Plaid's Liz Saville Roberts and the Independent Unionist Lady Sylvia Hermon (there are, of course, no Conservative names - it would be pretty extraordinary for a government MP to oppose a Budget).
This is the latest in a series of Budget amendments from this source, intended to highlight the lack of an independent gender impact assessment from the Office of Budget Responsibility, spelling out the consequences of the Budget measures for equality.
Normally the Speaker automatically selects the official Opposition amendment - but the number of MPs behind this one might give him pause. Mr Bercow has stretched convention on issues like this before, and just might chance his arm and allow this one to be debated too.
And whether or not it gets a formal vote, the issue is bound to feature in this debate, and ministers will need to offer some kind of answer.
In Westminster Hall (4.30pm), there's a debate on e-petition 200004: "We, the undersigned, call upon HM Government to give the people of this country the final say on the Brexit deal negotiated by the UK and EU. This would be done through a referendum that would take place prior to the April 2019 exit date," which has attracted 136,159 signatures.
The government has responded that "it is clear that it is now its duty to implement the will of the people expressed in June 2016, and so there will be no second referendum". The debate will cover a series of other e-petitions on the same issue.
In the Lords (2.30pm), questions cover the possibility of UK citizens retaining their EU citizenship post-Brexit, the effectiveness of local welfare assistance schemes and why kinship carers who subsequently have their own child are not exempt from the two child limit - and finally Labour's Lord Soley has what seems to be a rather ironic offering on guidance for ministers in the Foreign Office concerning the diplomatic skills required for the performance of their duties. Expect titters.
Any Brexit negotiation statement from the Commons will doubtless be repeated in the Lords at some point in the day, and then, peers will turn to the first report stage day on the Data Protection Bill - where the key point will be an amendment from the crossbench peer, Baroness Kidron, which will require guidance to be issued to make websites used by children age-appropriate.
This is the quid pro quo for allowing children aged 13 to agree terms and conditions on social media sites, and will include a requirement that those terms and conditions are comprehensible.
A second issue is embodied by a Lab-Lib amendment to ensure the UK meets EU data protection standards after Brexit - this is essential in order to ensure data transfers are still permitted, after Britain leaves.
Tuesday
The Commons opens (11.30am) with Business, Energy and Industrial Strategy questions.
The day's Ten Minute Rule Bill comes from Plaid's Liz Saville Roberts. Her Courts (Abuse of Process) Bill follows a survey of victims of stalking, harassment, domestic abuse and coercive behaviour which revealed that more than half faced vexatious court proceedings launched by people who had been convicted of abusing them.
It meant that two-thirds of victims had to appear in court and one third were actually cross-examined by those who had already been convicted of attacking, stalking or engaging in a pattern of coercive control against them.
This bill has cross-party support with the aim of prodding the Ministry of Justice to take action.
Then MPs resume their yomp through the European Union (Withdrawal) Bill - with day 6 of committee stage consideration, which will focus on Clause 7 of the bill, on dealing with deficiencies in retained EU law arising from withdrawal. The key issue here will be moves to create a sifting mechanism to allow MPs to monitor the use of the powers in the bill to reshape the law, so that it continues to work, post-Brexit.
This issue is targeted by a series of amendments from the former Attorney General, Dominic Grieve, to limit the powers given to ministers - but with new proposals on the way from the Commons Procedure Committee, and its Chair, Charles Walker, to create a sifting committee to flag up important issues and bring them before MPs, might he be satisfied with better scrutiny as opposed to writing restrictions into law?
Watch out, too, for an amendment from the Conservative former children's minister, Tim Loughton, to guarantee child refugees the right to join family members in Britain, post-Brexit. Mr Loughton, a keen Brexiteer, wants to ensure that their rights under the EU's Dublin III agreement are retained. He probably won't push the issue to a vote, but will want to extract assurances from the government, and will then probably revisit it, when the forthcoming Immigration Bill appears.
In Westminster Hall (9.30am) Labour's Jess Phillips leads a debate on funding for domestic violence refuges. She will be asking the government to rethink their proposals on removing housing benefit from women which she regards as well-intentioned but very naive. She fears they could halve the number of refuge spaces available.
With the hints of an Animal Rights Bill being floated by the Environment Secretary, Michael Gove, his Conservative colleague Zac Goldsmith's debate on animal welfare will bear watching. He has a shopping list of measures he wants included, like a ban on trophies from endangered species, a ban on live exports, a ban on wild animals in circuses, restrictions on antibiotic use in farming, and new measures to clamp down on ivory trading.
Another debate to catch my eye was Sir Henry Bellingham's, on the future of society lotteries, the Health Lottery and limits on prize values (at 2.30pm). He believes the current rules mean smaller lotteries are held back, because they are restricted to offering smaller prizes.
In the Lords (2.30pm) question time covers the number of people diagnosed with atrial fibrilation who were admitted to hospital with a stroke in 2016-17, and were not on an appropriate anti-coagulation therapy, and the number of doctors from European Economic Area states working in the UK who may be planning to leave the NHS after Brexit.
Then peers turn to the fourth day of committee stage debate on the detail of the Sanctions and Anti-Money Laundering Bill.
There will also be a short debate on human rights priorities in the light of Brexit - led by Labour's Lord Cashman.
Wednesday
The Commons opens (11.30am) with Wales questions, followed at noon by Prime Minister's Questions.
The day's Ten Minute Rule Bill, from Labour MP Karen Buck would require householders to notify local authorities of an intention to register accommodation for short or holiday lets - she says councils are struggling to enforce the law on the maximum letting period of 90 days a year, with one hand tied behind their backs, and as the holiday let market soars, areas are losing permanent homes to the hospitality sector, while trying to manage all the issues arising from informal, quasi-hotels in residential communities.
Her bill would not ban short lets, but would help councils to enforce the law effectively.
After that it's back to the detail of the European Union (Withdrawal) Bill - focussing on Clause 9 on implementing the withdrawal agreement.
The key issue here is the way the Commons processes the final deal; the government has agreed there should be a full-scale bill, allowing MPs to put down amendments, rather than a one-off vote, but once again Dominic Grieve and others have amendments down, and will need to be convinced that the government concession can be delivered if, for example, a final agreement is only reached at the last moment.
This approval bill could be the arena for settling all kinds of disputes about the final form of Brexit.
In Westminster Hall, there are debates on the parental rights of prisoners (9.30am); work capability assessments (2.30pm); male suicide (4pm) and quality in the built environment (4.30pm).
My committee pick is the Joint Human Rights Committee hearing on Freedom of Speech in Universities (3.15pm) which pits witnesses who have been "no-platformed" on campuses against those who have banned them. Peter Tatchell and Linda Bellos are among those appearing.
In the Lords (3pm) questions cover such issues as a single national standard for household recycling and the number and percentage of students who will pay back their student loans in full.
And then peers continue with the detail of the Data Protection Bill. Watch out for a move to push for the second stage of the Leveson Inquiry into press standards.
Thursday
The Commons opens (9.30 am) with Brexit questions, followed by the weekly update on forthcoming debates from the Leader of the House, Andrea Leadsom.
Then come two backbench debates - first another debate on equality of pension provision for women - the WASPI issue - this time, on a motion calling for the government to publish proposals to provide a non-means tested bridging solution for all women born on or after 6 April 1950 who are affected by changes to the state pension age in the 1995 and 2011 Pension Acts.
Then there is a debate on hormone pregnancy tests, led by the newly-knighted former minister, Sir Mike Penning.
The motion regrets that the terms of reference for the Commission on Human Medicines Expert Working Group on hormone pregnancy tests and believes the inquiry was flawed. It calls on the government to establish a statutory inquiry.
In Westminster Hall (1.30pm), MPs debate the Home Affairs Committee Report on Asylum Accommodation, which warned of increasing pressure on the system and the urgent need to increase its capacity. Then comes a debate (3pm) on the Northern Ireland Affairs Committee report on government support for UK victims of IRA attacks that used Gaddafi-supplied Semtex and weapons, which calls for the government to do more to extract compensation from the government of Libya. This plays into a campaign across both Houses of Parliament (including a private members bill from the Ulster Unionist Peer Lord Empey) which is putting ministers under pressure.
In the Lords (11am) questions to ministers cover impact of the Budget on north-east England , the revelations about tax avoidance in the Paradise Papers and the future of Disabled Students' Allowances.
That is followed by a debate on the report by the Children's Commissioner for England 'On measuring the number of vulnerable children in England' and then a debate on the report of the Bach Commission 'The Right to Justice' - led by the eponymous Lord Bach, a former justice minister. He is looking for consensus around proposals for a 'Right to Justice Act' enshrining a statutory right to Access to Justice, and reform of the 2012 Legal Aid, Sentencing and Punishment of Offenders Act that he says damaged access to justice.
Friday
The Commons is not sitting - in the Lords (10am) peers will hold second reading debates on three private members' bills, starting with the Refugees (Family Reunion) Bill, from the Lib Dem, Baroness Hamwee. This would allow leave to enter or remain in the UK to be granted to the family members of refugees and to refugees who are family members of British citizens and provide for legal aid to be available for refugee family reunion cases.
Then comes the Immigration Control (Gross Human Rights Abuses) Bill from the Labour human rights barrister, Baroness Kennedy of The Shaws. This would allow the government to refuse entry to the UK, or to curtail leave to enter already granted, to a person who is a non-UK or non-EEA national who is known have been, involved in gross human rights abuses.
Finally there is the Local Government Elections (Referendum) Bill from the Conservative, Lord Balfe. This should be lively, because the bill would permit a referendum to be held in any local government area, on introducing proportional representation voting for its local government elections.