What's on in Parliament?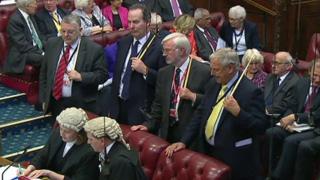 This week's Commons and Lords agendas are dotted with opportunities to consider amendments from the other lot - the process of Parliamentary ping-pong is now in full swing - but the likely subjects for the attention of honourable members and noble lords will by the Data Protection Bill and the Sanctions and Anti Money-Laundering Bill, and not the eagerly-awaited EU (Withdrawal) Bill.
That will not be seen until June at the earliest, and it is entirely possible that the wait might be longer than that - at the moment the government risks defeat on many of the 15 amendments passed by peers.
Beyond that, it's a gentle descent towards the half-term break. But that gentle ticking sound you may just be able detect is the sound of the clock ticking towards Brexit Day, and at some point an awful lot of essential Brexit legislation will have to be processed, which could mean some changes to sitting hours and revision of planned recesses.
But there are a couple of fascinating subplots.
First, the fate of an increasingly beleaguered Speaker. Having just avoided a Standards Committee investigation into allegations about bullying staff, John Bercow barely had time to heave a sigh of relief before new claims emerged, accompanied by new calls for his resignation.
The latter came from the usual suspects - backbench Conservatives Andrew Bridgen and James Duddridge - so they don't represent mounting pressure on the Speaker, just continuing pressure.
Now, though the Prime Minister's official spokesman has weighed in, saying that she "clearly thinks the alleged remarks are unacceptable" and adding the ominous suggestion that "if there is an official complaint made it should be properly investigated".
A really ominous sign would be silence from the Labour side. Up to now Labour MPs have tended to side with the Speaker, and he will be very vulnerable if they do not.
So listen carefully to any exchanges on this subject next week, and watch the body language closely. And mark who does not speak up. Mr Speaker is now living hand to mouth, and if he does not announce a date for his departure, he must hope to make it through to the summer recess without further damage.
Another interesting subplot will be the kerfuffle around the Labour MP Afzal Khan's private member's bill which would block the government's plan to cut the size of the House of Commons.
The plan to create a smaller House, with 600 seats, most of them with a standard number of voters, is well advanced, with the boundary commissions due to issue their final reports later this year. The Conservatives argue that this would address a serious unfairness, in that Labour seats tend to have smaller electorates than Tory ones; Labour retort that more needs to be done to register voters in their urban constituencies.
The kerfuffle is because, despite the bill having won a second reading last December, the government has refused to propose a money resolution for it. This is an essential procedural preliminary, authorising the use of public money in pursuit of the bill - and without it, detailed discussion in a public bill committee cannot begin - the bill committee has now met three times, and each time has had to adjourn after a few minutes of grumbling.
Salt has been rubbed into the wound by the government scheduling a money resolution for Peter Bone's Health and Social Care (National Data Guardian) Bill - a PMB the government does favour.
Mr Khan will raise the issue in an emergency debate under Standing Order 24 on Monday, but while that might allow him a chance to complain, and hear a response from ministers, I don't think the procedure would allow for any kind of instruction to be issued - the House can only "consider..." something on an SO No 24 debate.
It was interesting to see Conservative MPs, led by the Leader of the House, Andrea Leadsom, standing to signify their consent, when the application was made. I think that can be interpreted as "bring it on - we're not afraid of having this argument".
But the whole case illustrates the game-playing now endemic in the private members' bill system. It doesn't stop with the filibustering in the chamber; the normal rule that only one PMB is in committee at a time has been exploited ruthlessly, with committee proceedings on the "live" bill slowed to snail's pace, to delay the moment when bills behind it in the queue have to be discussed, with MPs even dragging out the normal preliminary debate on the timetable for committee sittings.
And then there are the money resolutions - the expression of a constitutional principle that the Crown (the government) has "financial initiative", meaning that only ministers control the public purse strings. Ever since the Cameron-Clegg coalition, when a couple of Lib Dem PMBs became pawns in a proxy war between the governing parties, these games have become more intense and more openly cynical.
Maybe this is a job for the Commons Procedure Committee.
Here's my rundown of the week ahead:
Monday
The Commons opens (2.30pm) with Work and Pensions questions - doubtless followed by the usual post-weekend clutch of ministerial statements and urgent questions.
Then the agenda will be a little fluid, with the option for consideration of amendments from the Lords open for most of the day. And last Thursday an emergency debate was added into the mix - when Labour's Afzal Khan successfully applied for a debate on the government's refusal to provide a money resolution for his private member's bill (see above).
The day's main legislating is on second reading of the Tenant Fees Bill, which bans landlords and letting agents from requiring certain payments from tenants and creates rules for the holding of deposits, as well as updating the law on information to be provided by letting agents and other issues.
There might be some pantomime around the proposal of a Money Resolution for the Conservative backbencher Peter Bone's Health and Social Care (National Data Guardian) Bill (see above).
Unusually, the adjournment debate is led by a party leader, the Lib Dems' Sir Vince Cable. But I'm assured this isn't some cunning Lib Dem stratagem, but a constituency issue around the pricing of drugs to treat hypothyroidism.
In Westminster Hall (4.30 pm) MPs debate e-petition 213451, which calls for a ban on the sale of puppies by pet shops and commercial dealers, arguing that removing puppies for sale from their litter and mother can create sick, traumatised, dysfunctional dogs. It attracted 123,402 signatures.
My committee pick is the Housing and Local Government hearing (4pm) with the new(ish) Housing Minister, Dominic Raab, and the Energy Minister, Claire Perry, as part of their inquiry into planning guidance on fracking.
The aim is to examine whether guidance for local authorities taking planning decisions on fracking needs to be updated. Meanwhile, the Transport Committee looks at the failed East Coast rail franchise, with evidence from rail experts, and the former Transport Secretary Lord Adonis (4.45pm).
In the Lords (2.30 pm) there's also a whole lot of ping-pong going on as peers consider Commons amendments to the Data Protection Bill. Here the main event will be another episode in the continuing saga of the Leveson 2 inquiry into press conduct. The Commons struck down the Lords' attempt to insert a requirement to hold the second part of the Leveson inquiry into the bill. Instead they're offering reports on data use for the purpose of journalism - so will that be enough to satisfy peers?
Then they move onto more ping-pong, this time on the Sanctions and Anti-Money Laundering Bill - where the Commons voted to add a Magnitsky law, allowing known humans rights abusers to be targeted with personal sanctions, and the Hodge-Mitchell amendment on a register of beneficial ownership of companies and assets in the British Overseas Territories.
Finally the indefatigable Lord Hunt of Kings Heath has another of his trademark regret motions against a statutory instrument, in this case the Education (Student Support) (Amendment) (No. 2) Regulations 2018 - which deals with support for support for students undertaking postgraduate pre-registration courses in nursing, midwifery, and other health and dental professions.
Tuesday
The Commons opens (11.30am) with Treasury questions, followed by a Ten Minute Rule Bill on the Social Mobility Commission, from the Conservative ex-minister, Robert Halfon.
His bill aims to give the Social Mobility Commission teeth and new members to replace those who resigned along with former Chair Alan Milburn. He also wants a more pro-active role for the Commission to pursue issues it identifies, as well as the creation of a social mobility unit in Downing Street, auditing all government policy for its social mobility implications.
Then the timetable again provides several slots for possible consideration of Lords amendments, depending on what peers might flip back to the Commons. And around those, there will be a general debate on serious violence strategy, particularly, I expect, knife crime.
There are an number of interesting-looking debates in Westminster Hall. West Midlands Labour MP, Matt Western, leads a debate (9.30am) on job losses in the UK automotive industry - he says there have been almost 2,000 manufacturing job losses in the last six months including 1,000 temporary workers in Jaguar Land Rover, one of the largest employers for his constituents.
Nissan and Vauxhall have also recently announced job losses for manufacturing staff. He will be pressing the government to provide greater clarity on Brexit, particularly on customs arrangements, to ensure industry can continue to rely on the cross-border supply chains upon which they depend. He also wants the government to comment on the "hostile environment" that has been created towards diesel and how they will support manufacturers through its consequences.
Then at 11 am, Conservative Lucy Allan will ask the minister for vulnerability, to clarify the government's position with regard to consent in Child Sexual Exploitation cases.
She says it should not be a defence in a CSE case, to say the child victim consented, or that the perpetrator "would not have been aware from the victim's actions that she did not want to have sexual intercourse". Both CPS and police have confirmed in a recent child grooming case that ''it was right that no charges have been brought," on the basis that the perpetrator would, from the victim's actions, have reasonably believed the victim consented.
"A child victim of a grooming gang does not exercise free will," she says. "The victim is not choosing to have sex with the perpetrator. Grooming is a subtle process. Victims may have been coerced, or psychologically manipulated and fear the consequences of saying no. If a child has been groomed, then any consent (be it express or implied) has in effect been forced. I want the minister to confirm that child victims of grooming will not be asked by police, whether or not they consented - consent should not be a relevant issue in a grooming case. That it remains a relevant factor suggest that in the minds of the police and the CPS the victim was to blame."
At 2.30pm Labour MP Jack Dromey leads a debate on nationwide levels of serious violence - he says many communities are now living in fear of serious crime such as robberies, violence and sexual assault as a result of government cuts of more than 20,000 police officers, which has led to criminals committing more and more crime in the belief that they are unlikely to be caught.
At 4.30pm the Conservative, Chris Philp, will highlight violence murder and discrimination against Christians in countries like Egypt, Pakistan, Eritrea and Nigeria. He points out that the UK sends £350m per year to Pakistan in overseas aid - yet blasphemy laws there are routinely used to harass and imprison Christians. And he will urge the Foreign Office to make ending religious persecution a foreign policy priority.
My committee pick is the concluding evidence session in the Health Committee's childhood obesity inquiry, with the Digital, Culture, Media and Sport Minister, Margot James and the Health Minister Steve Brine (2.30 pm).
In the Lords (2.30 pm) peers will give a brisk rubber stamping to the Smart Meters Bill at third reading , before moving on to the second reading debate on the Domestic Gas and Electricity (Tariff Cap) Bill, where the main points of contention will be the price cap itself, OFGEM procedures for proposing caps, and the review and termination of the cap.
Wednesday
MPs kick off (11.30am) with half an hour of International Development questions, before moving on to Prime Minister's Questions at noon. Last time the Speaker kept PMQs going for 52 minutes - will they hit the full hour this week?
The day's Ten Minute Rule Bill, from Labour MP Bambos Charalambous aims to ensure that inclusive and comprehensive palliative care is provided, through co-operation between public bodies, agencies and hospices. He says that carers of relatives and friends with a terminal illness save the taxpayer millions of pounds each year, and the government should not be taking them for granted.
Then we're back to possible consideration of Lords amendments, sandwiched around a Labour Opposition Day debate on a motion to be announced.
In Westminster Hall (9.30am) Labour's Naz Shah leads a debate on the effect of police stop and search powers on BAME communities. She says that when Theresa May was home secretary, she committed to a raft of changes to stop and search power, telling Parliament that in 2014 as many as 250,000 stop searches may have been conducted illegally. And she will argue that this is dangerous, set alongside a decline of genuine community policing.
Other subjects include the Treasury Committee Chair and Conservative former Cabinet Minister Nicky Morgan on the role of local communities in the planning system (11 am). She has previously called for more financial freedom for local councils, to help solve the housing shortage.
And Labour ex-minister David Hanson, who chairs the All Party Parliamentary Group on new psychoactive substances leads a debate (4.30pm) highlighting indications of big falls in new psychoactive substance (NPS) use, since the passing of the Psychoactive Substances Act in May last year.
My select committee picks are the Digital, Culture, Media and Sport Committee hearing with Sir Brian Leveson, who will be asked by about his views on media regulation, social media and Leveson 2 as part of their inquiry on fake news (2pm); and the Environmental Audit Committee's latest hearing on Heatwaves: Adapting to Climate Change. This will look at the risks to health, wellbeing and productivity from heatwaves, with witnesses from the health and transport sectors (2pm).
In the Lords (3pm) there are seven Statutory Instrument approval motions on special immigration appeals and preparation of adoption reports. These are followed by two on local government structural changes in Dorset which will be taken together, followed by a further two on Somerset, also to be taken together.
The last SI is on legislative reform of the social housing regulator. The final business of the day is a 90 minute short debate from Labour's Lord Berkeley, on improving the evacuation, search and rescue plans for large UK passenger ships operating in distant locations.
Thursday
It's MPs' last day before half term (9.30 am) and it starts with Transport questions. That will be followed by the weekly statement on forthcoming Commons debates, and then by a Backbench debate on the persecution of the Ahmadiyya Muslim community.
In the Lords (11am), peers debate two select committee reports - on Brexit: competition and State aid and on The UK and the future of the Western Balkans.
After that it's the Whitsun recess - with Hon Members and Noble Lords returning to the legislative coalface on 4 June.