Week ahead in the European Parliament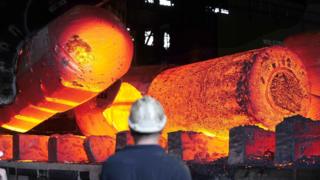 The European Parliament meets in Strasbourg next week for a plenary sitting set to be dominated by the issue of trade.
On Tuesday afternoon the EU's trade commissioner Cecilia Malmstrom will update MEPs on attempts to avoid a trade war with the United States.
President Trump is due to decide by the end of next week whether to follow through on his threat to slap new tariffs on steel and aluminium imports from Europe.
The EU has so far won a series of temporary reprieves from the new tariffs but has prepared counter-measures in case tariffs are imposed.
The next day, MEPs will hold a final vote on legislation that would revise the EU's standard practice for putting tariffs on unfairly subsidised imports.
The rule change will broaden the circumstances in which the EU could put higher tariffs on such goods by not applying the so-called lesser duty rule.
A deal on the revision was reached last December following years of stalled negotiations since it was first proposed back in 2013.
The required majority of EU countries are now in favour but the UK and Sweden both voted against it, whilst Ireland abstained.
This week's sitting will also feature speeches from the leaders of Luxembourg, Colombia and Guinea.
Here's what coming up in the week ahead...
Monday
A fairly quiet session will kick off with a debate on new EU road safety rules announced earlier this month.
After this MEPs will discuss a new multi-year fishing plan for stocks such as cod, plaice, haddock, and turbot in the North Sea, which faces a vote on Tuesday.
The new plan aims to ensure that annual quotas for such species are sustainable, by linking them to scientific advice on stock levels.
Later on MEPs will also discuss a report from the agriculture committee which recommends EU funding for young farmers should increase by 2% after 2020.
Currently farmers under the age of 40 can apply for EU funding from the common agricultural policy (CAP) to help them develop their business.
The evening will see short presentations of a number of advisory policy reports that have been produced by other committees.
One of them, drafted by Green MEP Molly Scott Cato, calls on the EU to develop a "green finance mark" for climate-friendly financial products.
Tuesday
The morning session will begin with a debate on draft plans for the EU's next long-term budget tabled earlier this month.
The European Commission has proposed cuts to agriculture subsidies but more money for security and research for the 2021-2027 period.
It also outlined plans to raise more money through levies on carbon emissions permits and plastic waste.
The final version must be signed off by the European Parliament as well as EU leaders - some of whom have been critical of the draft.
(It's Wednesday that MEPs will give their first formal reaction to the proposals in the form of a lengthy resolution.)
After this they will discuss proposed changes to the EU's rules on workers who are posted temporarily to another member state.
The current rules have faced criticism from those who feel they allow companies to bring in workers from low-wage countries and undercut local workers.
In March MEPs agreed a deal with national ministers which would mean posted workers are entitled to the same pay rules from the first day of their posting.
A final vote on an agreed version of the law will take place at lunchtime. EU states will have two years to comply with the new rules.
Before the voting session however they will hear a speech from Guinea's President Alpha Conde.
In the afternoon EU foreign affairs chief Federica Mogherini will debate the recent violence during protests at the Gaza-Israel border.
She will also debate deaths during anti-government demonstrations in Nicaragua, before the debate on the EU's response to the threat of steel tariffs gets underway.
After this MEPs will debate a motion calling on the EU to give practical support to UN efforts to hold elections in Libya by the end of this year.
The draft says the EU should provide technical support for the electoral process, with funding linked to election laws that comply with international standards.
They will then discuss a report from the civil liberties committee which sharply criticises border controls within the passport-free Schengen zone.
It claims border checks established in the wake of the migration crisis have had "crippling" economic effects and undermined trust in EU institutions.
Wednesday
Luxembourg Prime Minister Xavier Bettel will be the latest European leader to make a speech in an ongoing series on the future of the EU.
After the speech EU Commission President Jean-Claude Juncker - himself a former leader of the Grand Duchy - will speak, along with MEPs.
Following him in the morning's speech-making will be outgoing Colombian President Juan Manuel Santos, who is due to step down in August.
Mr Santos won the 2016 Nobel Peace Prize after his government reached a peace deal with the Marxist Farc rebel group.
After the lunchtime voting session, the practice of offering citizenship to people who buy property or invest in businesses will be debated.
At least half of EU countries offer "golden visas" to rich people who are nationals of countries outside the bloc.
The European Parliament has previously expressed concern about the practice. The EU Commission is due to publish a report later this year.
They will then discuss an advisory report calling on the European Commission to take action against the manipulation of milometers in used cars.
A new law coming into effect this month will make mileage fraud a punishable offence, and require meter tests to be carried out at regular safety inspections.
The report recommends that penalties for fraud should be standardised across the EU, and increased sharing of mileage recordings between national authorities.
In the evening MEPs will debate the decision by manufacturer Embraco to move production from Italy to Slovakia.
The decision by the company, which is controlled by US giant Whirlpool, will lead to the loss of around 500 jobs after a factory in Turin is closed down.
Italy's outgoing industry minister has said EU economic aid paid out to countries such as Slovakia means they could unfairly offer lower operating costs.
They will also discuss the EU's decision last year to cut Turkey's pre-accession funding for this year by €175m.
Turkey's EU accession talks began in 2005 but talks have been stalled for years.
In 2016 the European Parliament called for membership talks to be frozen following the Turkish government's crackdown following a coup attempt in July.
Thursday
The final day will open with a debate on what action the EU should take to tackle precarious work enabled through the "abuse" of fixed-term contracts.
A question tabled by the petitions committee asks the European Commission whether zero-hours contracts are compatible with EU rules on part-time working.
The committee has received number of petitions on the issue from all over the EU. A motion will be drawn up and voted on at lunchtime.
Also facing a vote will be a human rights motion on the treatment of EU-Iranian dual nationals imprisoned in Iran.
It comes after British-Iranian Nazanin Zaghari-Ratcliffe faces a new charge against her in the country.
This week her husband said the 39-year-old, who denied the new allegation of spreading propaganda, was told to expect a conviction by the judge.
Mrs Zaghari-Ratcliffe is currently serving a five-year jail sentence in Iran after being convicted of spying - charges she and her family deny.
Please note: This agenda is subject to modification at the opening of the session on Monday afternoon.
A guide to the European Parliament's plenary sessions can be found here.