The government blinks first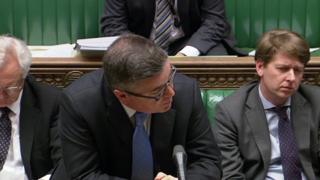 Maybe it was the moment when the former education secretary, Justine Greening, intervened on her former ministerial colleague, Dominic Grieve, that the government realised the game was up.
She was so supportive towards the former attorney general, as he argued for Parliament to have a "meaningful vote" on the terms of the Brexit deal, that it seemed probable she would join the Euro-rebels in voting for it….
For some time the government Chief Whip Julian Smith had been flitting round the Chamber talking to his troops - then he went and had a word with the Solicitor General, Robert Buckland, the government's in-house legal eagle, who is dealing with the techie legal aspects of the EU (Withdrawal) Bill.
Soon after, Mr Buckland intervened on Mr Grieve to suggest talks over a compromise deal. It appeared that the head count had been done, and the concession followed.
Most dangerous
The meaningful vote is probably the most dangerous of the Lords amendments to the EU (Withdrawal) Bill - because it tees up an unpredictable vote on the final terms of Brexit, towards the end of this year, and opens up the possibility that MPs could demand that ministers change policy, in the event the terms were rejected by the House, or no deal was reached in the talks with the EU….. they could even demand (drumroll) a second referendum…
The government would not have sought a deal if it thought it had the votes to win, and they clearly blinked.
The decision to seek a compromise marked an important victory for the soft Brexit/Remainer/"realist" Tory rebels, who have been promised an amendment giving them most of what they want.
As I write the full terms of the deal have yet to be revealed, but there is briefing ministers have conceded that a motion, which could be amended, would be put before MPs, in event a final divorce deal is voted down.
In other words, in the event of a divorce deal that the Commons refused to accept, MPs would be able to set a new course for Brexit.
This whole idea was denounced by Brexiteers as a Trojan horse for Remainers, and for a second referendum, so that concession could well produce some blowback. But for now, the government seems to have prevented an embarrassing defeat, and the Tory rebels have avoided the unpleasantness of colluding in the defeat of their Prime Minister.
One of the leading Tory rebels has told the BBC "the government has bent not broken" but it leaves the "fight for another day".
But ministers now know that a narrow but decisive Commons majority can be assembled against them on critical Brexit issues, and that its next outing could well be on a more substantive vote on a customs union.
Will that knowledge mean a softer Brexit strategy will now emerge?