MPs hear car-wash abuse concerns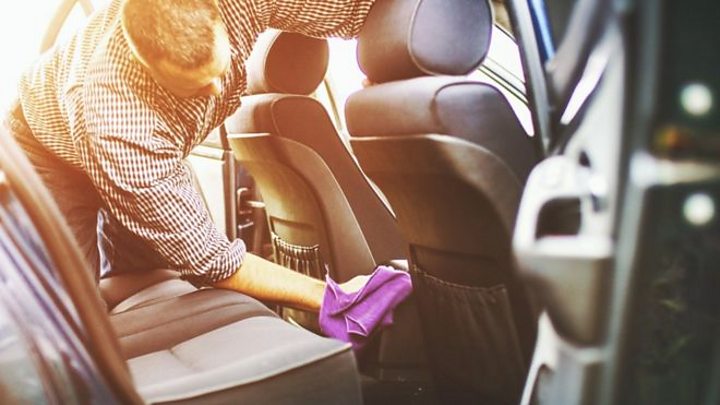 Many hand car washes are ignoring health and safety requirements and exploiting workers, a committee of MPs has heard.
Car washes are a common sight up and down the country, with possibly as many as 20,000 operating in the UK.
They operate in disused petrol stations, pub car parks or simply by the side of the road.
The Environmental Audit Committee has launched an inquiry into concerns that they are exploiting workers and damaging the environment.
MPs on the committee questioned witnesses about the industry.
Prof Ian Clark, from the Nottingham Business School, has taken part in a two-year study of 45 hand car washes. He told MPs that none was observing the national minimum wage or the living wage. And he said many were failing to observe statutory health and safety requirements.
Prof Clark said what workers were wearing also did not meet expected standards, with many going without waterproofs and protective footwear - despite the use of substances like hydrochloric acid.
Trench foot
Conservative MP Colin Clark asked how serious health and safety concerns were relating to corrosive chemicals, given that the committee had seen evidence of people injured.
Prof Clark said hospitals in Nottingham had seen evidence of car-wash workers developing trench foot, because of soaking wet feet, and hydrochloric acid burns.
"The working conditions are pretty bad," he told MPs.
But people weren't just at risk from their working environment. Prof Clark told the committee about a worker who was electrocuted after living on site in a converted shipping container.
Labour chairwoman Mary Creagh said the committee had seen some evidence of abuse, including passports and ID documents being held, and evidence of physical abuse and debt bondage.
Dr Akilah Jardine, from the Rights Lab at Nottingham University, said that in some areas police authorities said there were cases of modern slavery, where workers were not being paid.
"In one case, workers were made to hoover coins out of a car to survive on," she said.
Brian Madderson, of the Petrol Retailers Association, said he believed more than 90% of hand car-washes were unregulated.
He said that signs to indicate to the public that a site was unlicensed might include, for example, effluent running off the site into the road, or that the site took cash only, not credit or debit cards.
"It is cash only and that therefore leads on to a number of likely criminal activities, including the sale of illicit drugs on the site, including the sale of illicit tobacco and even in one case, prostitution services."
An investigation by the Car Wash Advisory Service, in Nottingham in 2014, found most operators did not have planning permission, did not pay business rates and did not have permission to dispose of effluent through the sewers.
The body has launched a Wash Mark licensing scheme to help drivers identify sites that have been fully audited, comply with legislation and are not engaged in criminal activities.
Listen to more from Today in Parliament on BBC Radio 4 at 23:30 BST.