MPs question if anti-slavery laws working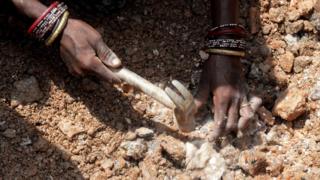 When the Modern Slavery Act became law in 2015, it was hailed as ground-breaking.
The aim was to tighten the legal net around enslavement in the UK, and to require big companies to police their supply chains abroad, so that UK consumers don't buy goods produced in whole or in part by people who have been enslaved.
But is it working?
This summer, the government announced a review of the Modern Slavery Act, with Independent MP Frank Field, Conservative MP Maria Miller and Lady Butler-Sloss, to check that the legislation is keeping up to date with the crime.
Concerns that several aspects of the modern slavery law were not working properly were raised by Labour MP Gareth Snell and others in a debate in Westminster Hall this week. There were all kinds of issues raised - the system for helping often very vulnerable victims, as well as that point about firms making sure they were not relying on slavery abroad.
Mr Snell was worried that the keystone of the system - a requirement for big companies to report on their efforts to stop slavery in their supply chains - was not working properly.
He told MPs that at a meeting of the Public Accounts Committee, the Home Office confirmed that it does not compile a list of companies that should make a declaration of transparency in the supply chains, does not have a list of those that have done so and - importantly - does not maintain the database.
In other words the enforcement was weak.
"Unfortunately, because everything is being done by third-party NGOs, the ability to compel necessary information simply does not exist. Until the government introduces something on a formal statutory basis, more and more organisations will seek to put aside their responsibilities," he told MPs.
Conservative MP Anne Marie Morris warned that companies could find their reputation at risk.
"Businesses must recognise that there is a brand issue. Philips has been phenomenal in what it has done to unearth modern-day slavery issues. There are many programmes to help, but only the willing come forward, so more must be done to ensure that that changes," she said.
For the government, Home Office Minister Victoria Atkins announced extensions of the services to help slavery victims. She said the authorities were pursuing the enslavers, with more than 950 live investigations under way.
"There have been some very good convictions recently, including last week the first conviction under modern slavery legislation of a county lines exploitation gang involving children.
"We want the message to be loud and clear: if a criminal gang leader exploits children in that way, they are guilty of grooming and should suffer the social stigma that that conveys."
She said she'd been working with major companies and many were doing good work, but that too many were still failing to publish transparency statements or show they are taking action.
"The Home Office will therefore over the next month write directly to the chief executives of 18,000 businesses considered to be in scope. Those that persist in flouting their obligations can expect to face tougher consequences," she said.
Unregulated businesses
So what does Gareth Snell think should be happening?
Companies should do due diligence checks on where supplies are coming from, he explained.
Much of the legislation too, refers to larger companies and "many smaller companies have no obligation to report whatsoever," he says. He points to car washes and nail bars as examples of places which are unregulated.
The pressure will continue next week, with a debate on Thursday on the exploitation of labour in supply chains to UK supermarkets, in the chamber of the House of Commons.
Anti-slavery campaigners also want the government to make time to get a private member's bill on support for the victims of slavery through the Commons.
Listen to Today in Parliament on Radio 4 on Friday at 23:30 BST and here.