Forget Brexit - bar wars are causing a Westminster stir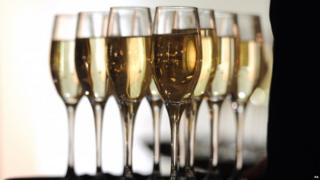 Forget Northern Ireland. The hard border issue that's really generating heat in Westminster is the one imposed by MPs across the entrance to one of Parliament's most popular watering holes, the Pugin Room.
This is a relatively small, comfortable bar, looking out over the river, where MPs and ex-MPs can take tea, coffee, or something stronger, and entertain guests in quiet civilised surroundings.
But there have been complaints that honourable members have found themselves crowded out by noble Lords, who're not, strictly speaking, supposed to be carousing there.
I'm told there is particular angst about one senior Labour peer's habit of entertaining guests to champagne there, and about one Liberal Democrat peer's regularly sitting alone at a big table.
"The problem is that there are just too many peers," snarled my (Conservative) informant.
A further annoyance is that peers have a large bar of their own, right next door, but seem to prefer to colonise the MPs' space instead.
Now, the Commons authorities have insisted that peers may only use the Pugin room on the same terms as MPs are allowed to use the adjoining Lords guest room….on WTO terms, you might say. That means peers are not allowed in until 8pm on Mondays, and after 6pm, for the rest of the week.
This has provoked quite a spat, with the Lord Speaker protesting to the House of Commons Commission, its ruling body - and influential peers making direct protests to the Chair of the Commons Administration Committee, Sir Paul Beresford.
And might the next move be a ban on MPs using their Lordships' eateries, which parliamentary trencherpersons regard as being a class above the ones in the Commons?
The Commission's expected to discuss the escalating bar wars next week.