UUP's Nesbitt refuses to comment on hotel incident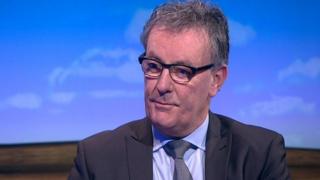 The former Ulster Unionist leader, Mike Nesbitt, is refusing to comment after being photographed lying face down on the floor of a Belfast hotel.
The picture, which appeared in several newspapers, shows Mr Nesbitt lying flat out with a woman pulling at his collar.
It has been reported the photograph was taken in the lobby of the Stormont Hotel in east Belfast last month.
Mr Nesbitt is reported to have told a national newspaper that "things happen".
"When you have a profile you can't expect people to respect your privacy," he added.
'Embarrassing for the party'
Alex Kane, a former director of communications with the Ulster Unionist Party, said Mr Nesbitt, who is standing as a candidate in the Westminster election, should explain what happened.
"It's embarrassing for the party and it's difficult for the candidate, and he is going to have to explain it.
"He can't hope that it is going to go away because in Twitter world and social media it's out there, it's a big story, he said.
"I think it's better the truth of what happened comes out, rather than leaving it to hundreds of thousands of people on social media to make up their own stories because, when that happens, the damage is so bad you can't stop it."