'Kids today are spoiled rotten'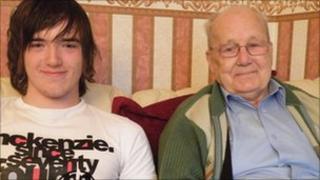 "I was getting the old thrupenny bit, or an old sixpence, every week for pocket money - that's about two-and-a-half pence in today's money," says Peter Muircraft.
Grandson, Cameron Martin, however, is given £15 by his mother on Fridays - a sum which he says is the going rate among his friends.
The 16-year-old from Motherwell sheepishly admits he does not have to do any chores in order to collect his cash.
"I've not got a rota," he says.
"But sometimes I'll come home from school and my mum is still at work so I'll do the dishes to help her out a bit. But she doesn't ask me to do anything."
His grandfather, on the other hand, had been working for a year in a steel factory by the time he was 16.
"I was earning a wage then," he says.
"It was about five shillings a week - that's about 25p."
Money management
He believes young people today are "spoiled rotten" but admits the cost of living has gone up and pocket money has to reflect that increase.
But even by today's standards, Cameron seems to be faring well compared to other youngsters, with a survey by Tesco Bank suggesting that British children receive an average of £5.80 a week.
Children in London top the table, with a weekly allowance of £7.81, while those in the west of Scotland are third, coining in £6.46 a week on average.
However, the poll found that a quarter of parents have cut the weekly allowance in the wake of the recession, so money management may become more of a factor.
Cameron, who is one of Scotland's top 100m runners for his age, already has some experience of saving.
"I need to buy spikes, which cost about £90 for a decent pair, so I'll save for a few months," he says.
"But if I've got nothing specific to buy I just spend my money as it comes."