Vow on university funding plans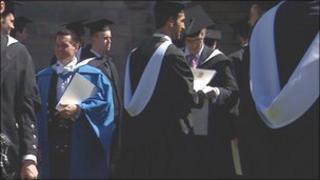 The Scottish government will come up with a "uniquely Scottish solution" to the challenges of university funding, Education Secretary Michael Russell has said.
On Friday, UK Business Secretary Vince Cable outlined proposals to fund higher education through a graduate tax.
Currently, Scottish students do not pay tuition fees at Scottish universities.
But universities in Scotland believe lower levels of funding will make it more difficult for them to compete.
Mr Russell said he would prepare a plan tailored specifically to Scotland.
"When we know what the recommendations are south of the border, we will publish a green paper that looks at the proper solution in Scotland, which may include a variety of new proposals," he said.
"There are things that all universities are thinking about, the way they can do things differently, and then we will move to a sustainable Scottish long-term solution."
In his first key speech on universities, Mr Cable said students would almost certainly have to pay more for university - possibly through a graduate tax rather than through subsidised loans.
Mr Russell has pledged not to introduce tuition fees for higher education.
But recently the think-tank Reform Scotland argued Scottish university graduates should have to contribute towards the cost of their education by paying deferred fees.