Labour market conditions in Scotland 'worsen'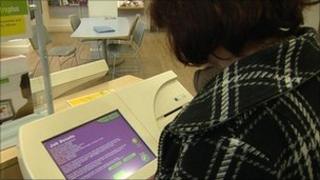 Labour market conditions in Scotland worsened last month due to a strong rise in the number of people looking for jobs, according to a new report.
The Bank of Scotland's Report on Jobs indicated a slight deterioration for the first time in seven months.
But demand for both permanent and temporary workers increased in June.
The study suggested the rise in candidate availability could indicate workers were looking for employment following a period of inactivity.
It said this could indicate a transitional phase in the labour market recovery as opposed to an outright deterioration of conditions.
Donald MacRae, chief economist at Bank of Scotland, said although there was some deterioration, permanent employment had increased for the ninth month in a row, albeit at a slower pace than previously.
In June, the demand for permanent workers in Scotland rose for the seventh successive month while demand for temporary workers rose for the eighth month in a row.
There was also a rise in the number of workers placed in permanent jobs by Scottish recruitment agencies.
In the permanent sector, the biggest rise in vacancies was in the hotel and catering sector, while in the temporary sector it was in IT and computing.
There was a decline in average salaries for permanent workers last month, whereas short-term workers saw a modest rise in hourly staff remuneration rates.
The report is based on a monthly survey of more than 100 recruitment and employment consultants.