Rents rise as homebuyers struggle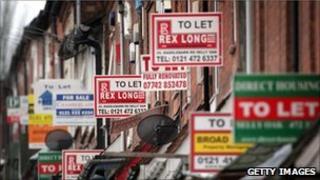 Would-be homeowners struggling to buy their first homes are helping to drive up Scotland's rental market, according to a letting agent.
Citylets said many people had given up trying to buy and had decided to rent instead.
The company said the average rental price in Scotland had risen by 3.3% over the past year to £654.
The average time taken for properties to rent has also dropped by seven days compared to a year ago.
Citylets said this was an indication there was now greater competition among tenants for rented property in Scotland.
'Tighter requirements'
Dan Cookson, an analyst for the firm, said: "One of the reasons for this continued growth is the fact that many would-be property buyers are continuing to find it difficult to purchase their first home.
"Tighter lending requirements and higher deposit requirements remain an issue for many people who cannot secure the necessary funds to purchase a property, so they are choosing to rent until they can make the step onto the ladder."
The best performing city in Scotland is Edinburgh, where the average rent for a one bed flat in the city now stands at £520 - a rise of 3.2% compared with last year - while the average cost for a two-bedroom flat has risen 4.6% to £680.
In Glasgow, the average rent for a two-bedroom flat is now £595 - a rise of 2.4% - while the average rent for a three-bed property has risen by 6.9% to £817.
Aberdeen remains Scotland's most expensive place to rent although prices have fallen by 1.1% to £543 for a one-bed flat, however the average rent for two bed properties in the city has risen by 2.7% to £790.