Drink and drug-driving cases down in Scottish campaign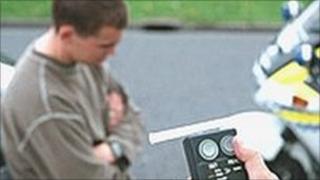 The number of drink and drug-drivers caught by police in a national campaign has fallen by 15.9% from last year.
Officers arrested 212 drivers during a two-week crackdown in July, compared to 252 in the same period last year.
Incidents during the campaign included the arrest in Penicuik of a 17-year-old boy for cycling while drunk.
A 77-year-old man was also detained by a member of the public in Musselburgh after being seen driving erratically. Police found an open bottle of vodka.
The Association of Chief Police Officers in Scotland (Acpos) described the fall as "heartening" but warned they would continue to target people who drove while unfit to do so.
Ch Supt Brian Anderson, who leads on drink and drug-driving for Acpos, said: "As this annual campaign comes to a close, it is heartening to see that the message is getting through and fewer drivers are risking their lives and the lives of others by driving whilst unfit through drink or drugs.
"This campaign has now finished but officers throughout the country will continue to target drink or drug drivers."