Warning over investment 'hiatus'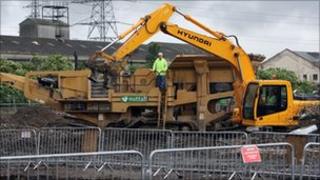 Investing in Scotland's infrastructure rather than preserving existing services could help revive its economy, according to a think-tank.
The Centre for Public Policy for Regions (CPPR) studied previous public spending squeezes.
It said the evidence suggested "maintaining and developing Scotland's infrastructure spend" would be key.
And it warned the Scottish government faced an "investment hiatus" on capital projects over the next five years.
The CPPR, run jointly by the Universities of Glasgow and Strathclyde, looks at the role of public policy in promoting economic and social development in Scotland.
Its said there could be £1.6bn less to spend on capital projects, such as the new £2bn Forth Road Bridge, if Scotland chose to cut spending on infrastructure projects.
One of the scenarios envisaged by the CPPR team suggested ring-fencing health spending at current levels would lead to a 60% reduction in capital budgets in other areas within five years.
The CPPR said Westminster and Holyrood had reached a crossroads with regard to maintaining their infrastructure spend, which has been at record levels since devolution 11 years ago.
They stated that, in its response to the UK government spending review, Scotland must clearly set out its priorities to ensure capital spending "is not cut to an inappropriate degree".
The Scottish government must set out what percentage of its reduced budget is for infrastructure projects and indicate which remain a priority, the CPPR said.
Greater transparency on which capital projects are selected for funding is also required, according to the report.
Report author Jo Armstrong said: "With budgets tightening, the development of Scotland's public infrastructure may be facing a serious hiatus.
"Sacrificing capital spending on, for example, communications networks or key utilities, to secure employment in other service areas may be politically attractive.
"But to do so may also slow the growth of the Scottish economy as it endeavours to emerge from the recession".
Co-author John McLaren said: "The demand for more new schools, hospitals and roads is now greater than the supply of funding likely to be available to secure them.
"Such an outlook suggests a reappraisal of Scotland's infrastructure priorities is needed to ensure the scarce funding that remains is appropriately allocated."
The CPPR report was published against a backdrop of expected public sector spending cuts which is likely to result in substantially less funds for Scotland from the UK government.
A Scottish government spokesman said accelerating capital spending was a "key feature" of the economic recovery plan.
The spokesman added: "We are maximising our capital spending with £3.3bn of investment this year, and we have tasked the Scottish Futures Trust with securing increased value for taxpayers in infrastructure investment - which is vital given the unprecedented scale of the cuts coming from Westminster.
"We will only receive full details of future funding from Westminster going forward in October's UK comprehensive spending review, but the scale of the challenge we face is clear - which is exactly why the Scottish government set up the Independent Budget Review to dispassionately consider options."