Poor performance costs ScotRail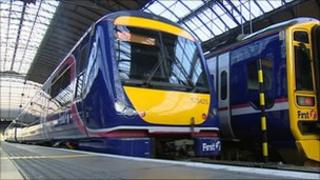 Fines of more than £785,000 were handed out to ScotRail in the past year over shortfalls in the train operator's performance.
The figure was about £150,000 lower than the previous year.
The penalties were imposed for problems ranging from litter and dirty toilets to passengers not being given proper arrival and departure information at stations.
ScotRail said its inspection regime was one of the toughest in the UK.
The assessments of passenger experiences are carried out by Transport Scotland's Service Quality Incentive Regime (Squire) at stations and on board trains across the country.
ScotRail received bonuses for above benchmark performance, and penalties for areas that fall below benchmark, with the penalties outweighing the bonuses by a total of £785,630 in the 12 months to 26 June - down from £938,959 over the previous year.
Squire's report said improvements could be made to destination boards and passenger information, passenger announcements, litter and contamination, station toilets and train toilets.
However, it also praised ScotRail's consistently high performance in clearing station graffiti, station staff, train cleanliness, ticket collection at key stations, train staff and customer care.
ScotRail managing director Steve Montgomery welcomed the "significant" fall in penalties, which he said were a "step in the right direction".
He added: "We are rising to the challenges and believe we continue to meet customers' needs and expectations, underpinned by record high National Passenger Survey ratings.
"There is still work to be done and our focus on standards and investment in stations and trains, and developing our staff, will continue."
Bill Reeve, of Transport Scotland, said: "Over the past 12 months ScotRail has improved its performance in a number of areas and Transport Scotland will continue to highlight below benchmark results to ensure this system continues to confront issues as they arise."
The recent National Passenger Survey showed overall customer satisfaction remains at a record high and ScotRail was named UK Rail Operator of the Year for the second year in a row.