Calman plans 'empower' Holyrood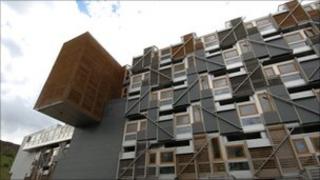 Holyrood will be more "empowered and accountable" after it has been handed tax-varying powers, the Scottish secretary has claimed.
Michael Moore co-chaired a meeting looking at implementing the proposals, which were contained in the Calman Commission review of devolution.
It proposed that the UK Treasury should deduct 10p from standard and upper rates of income tax in Scotland.
MSPs at Holyrood would be given the power to decide how to raise the cash.
The new powers would be combined with a cut in the block grant, currently about £30bn, which Scotland gets from the UK government.
The Calman Implementation Group was chaired by Mr Moore and Exchequer Secretary to the UK Treasury, David Gauke, when it met in Edinburgh on Monday.
The meeting heard about the work which was already under way at the Treasury on the Calman recommendations.
Speaking ahead of the meeting, Mr Moore said: "It is a demonstration of this government's commitment to strengthen and update the devolution settlement by giving MSPs new tax-varying powers.
"Our package will ensure that the Scottish government's spending levels are made in light of their tax polices.
"The Scottish Parliament will be both empowered and accountable. This will give voters the power to choose a Scottish government with the tax and spend policies that they believe in."
Fiscal autonomy
The Calman recommendations would also hand powers over some other taxes to Holyrood, including air passenger duty, stamp duty, land tax, the aggregates levy and landfill tax.
Finance Secretary John Swinney said the Calman financial proposals were "a poison pill which Scotland cannot afford to swallow".
Mr Swinney also claimed the plans could see Scotland's share of spending slashed by the coalition government.
He said: "Members of Calman's own expert financial group are warning of the dangers of what Michael Moore is talking about."
But Mr Moore earlier insisted Calman was the "only option on the table".
The coalition Tory/Lib Dem UK government wants to publish a Scotland Bill in the autumn which will include all the main proposals of Calman to enhance Holyrood's powers.
This would also hand Holyrood control over airgun legislation, powers over drink-driving and speed limits and the running of the Scottish elections.
Labour's constitutional affairs spokeswoman Pauline McNeill welcomed the fact that the secretary of state for Scotland had opened the debate on Monday.
But she said the coalition government should remember that Calman was a joint venture between Westminster and the Scottish Parliament, and they should fully consult with MSPs as the bill progresses.
She added: "It is also important that a timetable for progress is set out so that the people of Scotland are clear about what powers the Scottish government is going to have."