Commercial hopes for wave energy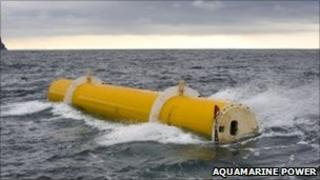 Wave energy developer Aquamarine Power has joined forces with BAE Systems in a project designed to help create the world's first commercial wave farm.
The two companies will examine ways of enabling large-scale commercial production of Aquamarine's new wave energy device, known as Oyster.
The £900,000 project has been co-funded by the Technology Strategy Board.
The Oyster has been undergoing sea trials at the European Marine Energy Centre (EMEC) in Orkney since November.
The device is a hinged flap connected to the sea-bed which uses wave power to deliver high-pressure water to an onshore turbine.
Under this new partnership, engineers at BAE Systems will work with Edinburgh-based Aquamarine to develop an intelligent diagnostic system and remote ballasting mechanism for the Oyster.
The companies believe these innovations will drive down maintenance costs and help to maximise energy production.
This in turn would pave the way for the Oyster technology to be rolled out on a commercial scale.
Aquamarine's chief executive, Martin McAdam, said: "The Oyster system works well.
"Our next step is to drive down the cost of electricity generated from wave power through improvements in Oyster reliability and reduced maintenance costs."
Aquamarine, which is seeking a total of £50m of investment in the Oyster, plans to deploy its new Oyster 2 device next summer.
The company believes the new version could deliver 250% more power than the original device.