Church defends Pope cash appeal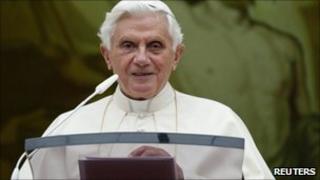 The Roman Catholic Church has defended asking parishioners to make a contribution to the cost of going to see the Pope on his visit to Glasgow.
Pope Benedict XVI will celebrate a public mass for 100,000 people at Bellahouston Park on 16 September.
Anyone who wants access to the mass will need a Pilgrim Pass and the church suggested a donation of £20 per pass.
But it said no-one would be forced to pay and the money would be spent on arrangements such as transport.
It said that if parishes could not pay then fundraising could cover the costs.
The 100,000 people expected at the open-air mass is about half the total number of Catholics who attend mass each week in Scotland.
Places will also be allocated to worshippers from the north of England and Northern Ireland.
The Pilgrim Pass includes a pack with information about the visit and a CD.
Scottish Catholic Church spokesman Peter Kearney insisted it did not mean people were being forced to pay to see the Pontiff.
"Any costs involved are to cover logistics like transport," he said.
"We have negotiated with bus companies to make sure that people can travel on designated buses from every single part of the country.
"All people are being asked to do is make a contribution through their parishes to cover those obvious and real expenses."