Expert calls for formula milk watchdog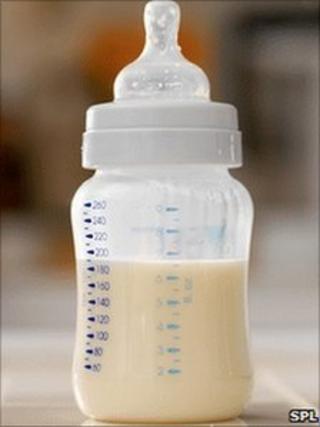 A Scots expert has said disputes over the use of formula milk have hampered improvements in child nutrition.
Professor Stewart Forsyth called for an ombudsman to oversee the voluntary code on how the milk is marketed, nearly 30 years after it was established.
He said a multi-agency approach to monitoring the code was not working, because the self-regulatory structure resulted in claim and counter-claim.
Mistrust has now developed between key agencies, he wrote in a health journal.
The article is published in the Archives of Disease in Childhood, a specialist title produced by the BMJ.
The code, which was established in 1981 and is monitored by the World Health Organisation, contains 11 articles covering marketing and distribution, quality standards and government responsibilities.
However, Prof Forsyth, formerly of NHS Tayside, said the code - which was intended to foster global co-operation between governments, industry and aid agencies - had instead been mired in three decades of often bitter dispute.
He said the "unrelenting" disagreements, mostly over alleged violations of the code, had provoked boycotts and legal action.
Campaigners fear mothers are being encouraged to give up breast feeding with all the health benefits it brings to their babies.
His article stated: "An internet search of the milk substitute code is dominated by claims of violation being raised by non-governmental organisations (predominantly Baby Milk Action) against milk formula companies (predominantly Nestle).
"Most striking is the absence of a website commissioned by an official independent governance body which provides comprehensive and validated data on claims of violation and their outcomes.
"It is probably not surprising that each of the components of this self-regulatory structure continue to manifest aspects of self-interest, and this is likely to continue in the absence of an 'ombudsman' or independent body with the authority to arbitrate and ensure that actions taken by respective parties are in keeping with the spirit of the code."
The academic added that as long as the hostilities continued, improvements in maternal, infant and child nutrition would be less likely.