Scottish seabird numbers take a dive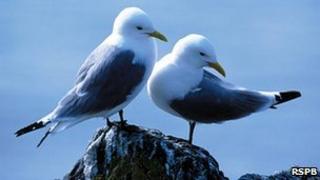 Three types of Scottish seabirds have seen their numbers nearly halved in the past decade, according to a report.
The Joint Nature Conservation Committee study outlined a population drop of about 40% among Kittiwakes, Fulmars and Herring Gulls over the past ten years.
The committee, which advises the UK and devolved governments, said lack of food was the most likely cause due to climate change and human activity.
RSPB Scotland said it was a "worrying trend."
Rory Crawford, a policy officer with the organisation, said it was necessary to build "resilience" into seabird populations.
He said: "With the impacts of climate change becoming evident the new Scottish Marine Act needs to play a crucial role in building this resilience."
"Importantly, it promises to create marine protected areas in key locations for marine wildlife."
He added: "If this breeding season turns out to be another disastrous one for sensitive species like Kittiwakes, then it's the starkest warning yet that we must implement these new laws as a matter of urgency."
The RSPB suggested that the worst affected areas are the Northern Isles where there were breeding problems for species like the Arctic Tern and Guillemot.
Its initial figures this year from Orkney and Shetland suggested many seabirds were struggling because of a lack of sand eels - their main food-source.