At-a-glance: Independent Budget Review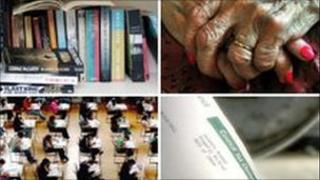 The review panel set up by the Scottish government to consider options for future public expenditure has released its report.
The Independent Budget Review report sets out options "that the Scottish government and parliament may want to consider in the face of the most challenging public spending environment since the Second World War".
Its recommendations will "inform" debate ahead of the UK's Comprehensive Spending Review in the autumn and shape the Scottish government's next budget.
Here are some of the main recommendations of the report.
Jobs
A fall in public sector employment of between about 5.7% and 10% should be managed by 2014-15, as far as possible through natural wastage.
That could translate into the loss of between 35,000 and 60,000 public sector jobs.
A recruitment freeze across the public sector, with exceptions only granted for essential staff posts.
Pay and conditions
A two-year pay freeze from 2011-12 "as the first essential step to constrain growth in the public sector pay bill".
There should be engagement with the Independent Public Services Pension Commission to review public sector pensions. Pension changes, it says, "are essential and almost certainly unavoidable".
Public services
All services should be subjected to scrutiny. The report says there should be "no overriding presumption of protection for any of the major services".
Future annual efficiency targets across the public sector should be no less than 2% per annum.
The council tax freeze should also be looked at being "discontinued" and does not appear "sustainable" in the long term.
A longer-term strategic view of the future shape and nature of public services should be developed.
Health services
Immediate work should be undertaken to review whether all free or subsidised universal services should be retained in their current form.
That includes reviewing eligibility criteria for concessionary travel and free NHS eye examinations, reviewing future arrangements for free personal and nursing care and considering the suspension of the final stage in the planned reduction in prescription charges.
The NHS Distinction Awards scheme should be reviewed, as part of the Fair Pay Review.
Public bodies
The number of public bodies should be further reduced.
Options should be explored for changing the status of Scottish Water, possibly to that of a public interest company, "which could permit the release of significant capital".
The role of the Scottish Futures Trust should be revised and built on.
Higher education
Options include whether to maintain the current funding arrangements for higher education in Scotland or to implement a scheme similar to that in England, such as tuition fees, or other arrangements such as graduate contributions.