Peter Tobin questioned over sex crimes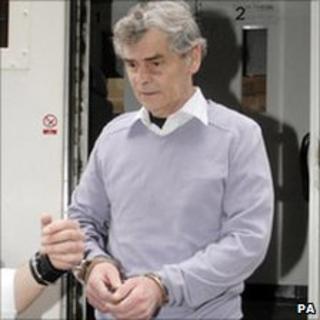 Serial killer Peter Tobin has been questioned by police in Edinburgh within the last 24 hours in connection with serious sex crimes in Scotland.
The 63-year-old was taken from Saughton Prison in Edinburgh, where he is serving life sentences for the murders of three young women.
He was questioned for more than 10 hours at St Leonards police station.
Tobin was also quizzed about searches of two East Sussex properties, which failed to uncover any further victims.
Teams of police officers and forensic archaeologists spent 15 days excavating the garden and basement of his former home in Brighton, but the search was halted on Monday after it revealed no evidence of any crimes.
A nine-day search at a property in Portslade, which also ruled out a link to Tobin's crimes, ended last week.
Tobin was first convicted of murder three years ago, when he was found guilty of raping and killing Polish student Angelika Kluk.
The 23-year-old's body was found under the floor of St Patrick's Church in Glasgow, where Tobin had been working as a handyman.
Detectives investigating the disappearances of 18-year-old Dinah McNicol and 15-year-old Vicky Hamilton focused their attention on Tobin after he was convicted of Angelika Kluk's murder.
Ms McNicol vanished in August 1991 while hitchhiking to her home in Tillingham after leaving a music festival in Hampshire. Falkirk schoolgirl Vicky Hamilton disappeared the same year while waiting for a bus near Tobin's then home in Bathgate, West Lothian.
Their bodies were found buried in the garden of Tobin's home in Margate, Kent, in 2008.
Detectives involved in Operation Anagram, which is looking into the background of the serial killer from Johnstone in Renfrewshire, believe he could be responsible for the disappearance of many other young women, dating back to the 1960s.
Refused to help
Strathclyde Police Supt David Swindle, who is leading the inquiry, said: "As a result of the continuing enquiries surrounding Operation Anagram, Strathclyde officers detained Peter Tobin from HMP Edinburgh and took him to Saint Leonards Police Office, Edinburgh, where he was interviewed with a legal representative for most of the day.
"This was in relation to his suspected involvement in serious sexual crimes in Scotland and also in an effort to establish the truth about the possible criminal activities of Peter Tobin which have been the subject of continued media speculation.
"The outcome of yesterday's interview conducted under Scottish powers is being reported to the Crown Office in Scotland.
"A Sussex officer attached to the UK wide Operation Anagram was present throughout the interview, this joint working between UK Forces has been a significant feature of Operation Anagram which still continues to examine the life of the serial killer Peter Tobin."
Tobin, who was returned to Saughton jail on Wednesday night, has always refused to help police investigating his crimes.
Strathclyde Police said a report had been sent to the procurator fiscal.