Ministers told to release data on adviser meetings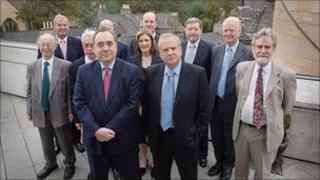 Scottish ministers have been ordered to publish more details on meetings of the Council of Economic Advisers, after a Freedom of Information request.
A journalist asked about the first five meetings of the body, set up in 2007 to advise the first minister.
In his 1,000th ruling, Information Commissioner Kevin Dunion ordered details to be released.
A government spokesman said information on costs were available and the terms of the decision were being examined.
The council was set up just over three years ago to advise First Minister Alex Salmond on the best way to improve Scotland's economic growth rate.
It is chaired by Sir George Mathewson, former chief executive and chairman of the Royal Bank of Scotland, and has 10 other members from the world of business and economics.
The group meets every three months and publishes an annual report on the state of the economy.
Mr Dunion said the case, the 1,000th his office had dealt with in the five years since Scotland's FoI laws came into force, was "not untypical".
He ruled that the government had not put forward an "appropriate justification for the non-disclosure of data", and had also failed to confirm that officials had appropriately searched for all relevant information.
He ordered the government to publish the information by 6 September, and to carry out further searches for other information.
He said: "By now, all public authorities should be fully aware of their duties when responding to FoI requests.
"They should understand the need to present clear arguments when they decide to withhold information and those arguments should stand up to scrutiny in the event of an appeal.
"Where, as in this case, a public authority fails to make an appropriate case, I will order the release of information.
"With all this experience behind us, I expect authorities to get their responses - to FoI requesters and to me - right first time."
Mr Dunion said about two-thirds of his decisions found in favour, or partially in favour, of the applicant.
A spokesman for the first minister said costs of Council of Economic Advisers meetings had already been published.
He added: "The CEA is one of the most distinguished teams of experts ever assembled anywhere - including two Nobel laureates, world acknowledged academics, as well as some of Scotland's most outstanding business people.
"They are giving their time and expertise to help Scotland's economy for no charge whatever, and their help assumes even greater importance and value during tough economic times."
The government said Scotland was leading the rest of the UK in applying Freedom of Information legislation.
It said the vast majority of requests it had received had been handled on time and resulted in the release of information.
"However, we are not complacent and we will continue to drive up performance and to provide more information proactively," a spokesman added.
"We have received the commissioner's decision and are considering its terms."