John Swinney slams UK 'mismanagement'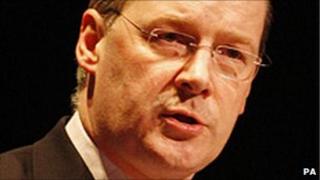 The Scottish finance secretary has blamed the "mismanagement" of Westminster for the "acute financial challenge" facing Scotland.
A report published on Thursday warned that severe cuts would need to be made to the Scottish public sector, with the loss of up to 60,000 jobs.
It also called for an immediate review of all free universal services.
In an interview on BBC Radio's Good Morning Scotland, John Swinney refused to say which services are under threat.
He was speaking the day after the Independent Budget Review Group - which had been commissioned by the Scottish government - recommended no public services should be spared from budget cuts.
He made a commitment that any additional money due to Scotland as a result of the UK government pledging to protect health spending in England would be ring-fenced for the Scottish health service.
'In a mess'
But the finance secretary added: "Clearly there are a whole range of different options and choices within the independent budget review."
He argued that the country's financial difficulties had come about "because of the way in which the public finances have been mismanaged by the United Kingdom governments over many years".
He criticised the "debt wracked up by the last Labour government" and also attacked the Tory-Liberal Democrat coalition for "reducing public spending far too far and far too fast".
Mr Swinney said: "I don't think it's anything that could be disputed that the public finances are in a mess because of the mismanagement of the last Labour government and we're having to face a bigger challenge in reducing public spending because the current UK government has decided to accelerate the fiscal consolidation."
The Independent Budget Review Group report argued that ring-fencing an area such as health from cuts would leave other departments in Scotland facing budget cuts of more than 20% by 2014-15.
It said the feasibility of all free universal services should be examined, including the flagship policy of free personal care, and also said that continuing the council tax freeze may not be sustainable.
Various options
The Westminster government has already warned harsh cuts are needed to tackle the UK's £155bn annual deficit.
The review, which was chaired by former Scottish Enterprise chief executive Sir Crawford Beveridge, was set up to examine where savings could be made in Scotland.
Mr Swinney has called for cross-party talks to discuss the various options set out in the review, and said he also wanted members of the public to take part in the debate.
"As Crawford Beveridge quite rightly said this isn't some abstract detail, this is about people and their lives and their services - and their government is determined to listen to their views," he said.