Concern over new teachers' literacy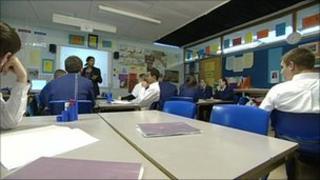 Many new teachers in Scotland feel ill-prepared to teach basic literacy and numeracy, according to a report by the HM Inspectorate of Education (HMIe).
The watchdog also painted a picture of a profession in which members commonly became stale after years in post.
It suggested teachers move to other schools from time to time, and that head teachers should have fixed-term contracts.
The EIS said its members would welcome better provision of in-service courses.
However it disputed that teachers were ill-prepared, and said staff transfers could be fraught with problems.
The report from HMIe has been submitted to its former head, Graham Donaldson, who has been commissioned by the Scottish government to carry out a review of teacher training.
A Scottish government spokesman said: "The review is underway and ministers will consider all submissions in due course. The review is due to report to ministers at the end of 2010."
According to HMIe the need for improvement is great, as research has indicated that Scottish education is less successful than other countries in closing the gap between the achievements of children from well-off and less well-off homes.
Commenting on proposed transfers of staff, Drew Morrice, assistant secretary of the EIS, said: "In a council like Highland there's an obvious difficulty in moving someone from Lochaber to Dingwall.
"And even in a relatively compact council area such as Midlothian, moving is highly questionable. It is worth debating but in any discussions there can be no assumptions and no givens."
Training standards
School Leaders Scotland, the secondary head teachers' union, predicted its members would be resistant to fixed-term contracts.
In its report, HM Inspectorate of Education (HMIe) said: "A number of head teachers, students and newly qualified teachers (NQTs) expressed concern about NQTs' preparedness to teach the basics of reading."
It also said a number of head teachers and education authority staff had been "strong in their criticisms of the literacy skills of a few NQTs, highlighting deficiencies in basic spoken grammar.
And inspectors said many NQTs had reported that they feel even less confident teaching numeracy.
A few primary school trainee teachers said they struggled with tasks such as fractions, long division and mental calculations.
According to the watchdog, lecturers spent too much time teaching theories and not enough time teaching practical skills.
HMIe said there were many positive aspects of current training - such as the "world-leading" induction scheme for newly-qualified teachers.
But the watchdog said it was concerned by the variable standard of training and mentoring from university education faculties, schools and education authorities.
'Refresh expertise'
Student teachers and head teachers reported inconsistencies in the rigour with which tutors supported and challenged students.
Inspectors also claimed there was a need for good CPD (in-service) courses to "refresh" teachers' expertise.
The report said: "Many other professions do not allow members to practise if they have not fulfilled CPD requirements."
The review, with recommendations for the Scottish government, is to be published by the end of this year.