Scottish housing market picks up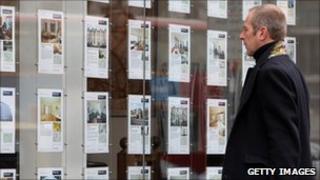 Latest figures have shown a 30% rise in the number of houses sold in Scotland between April and June this year compared to the previous quarter.
The average price of a home rose by 3.6% in the same period, although it has increased by 5.3% over the year.
The figures released by the Registers of Scotland include all house sales, including those sold for cash.
The average price of a home is now £153,248, with Edinburgh the most expensive area.
The average price of a house there is £213,915.
East Lothian has seen the biggest rise in prices over the year with the average cost of a home at £201,359 - an increase of nearly 18% from 12 months ago.
The jump in the number of sales in the latest quarter could be down to the improvement in the weather during the period.
Compared to a year ago the volume of houses sold increased by 17.1%.
The greatest increase in activity in the housing market was in the Orkney Islands, West Dunbartonshire and Perth and Kinross.
But Orkney saw a fall in prices of 8.5% over the year.