Scots pupils set record Higher pass rate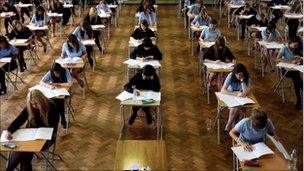 Scottish pupils have set a new record pass rate for Higher examinations.
More than 160,000 students who sat Highers, Standard Grades and other examinations in the summer were due to receive their results in the post.
The Scottish Qualifications Authority (SQA) said this year's overall pass rate at Higher was 74.6% - marginally more than the record set last year.
The pass rate across Standard Grades, generally sat by 15 and 16-year-olds, was also largely similar to 2009.
About 35,000 students opted to find out their results by text and e-mail a day early on Wednesday, but all pupils will receive their certificates through the letterbox in the traditional manner on Thursday.
A National Exam Results helpline has been set up to offer advice on university and college places as well as employment and training opportunities to all students receiving results.
The helpline number is 0808 100 8000. It is operated by staff from Skills Development Scotland, and will be open every day until 28 August.
Figures released by the SQA showed there has been general stability in results across Standard Grade to Advanced Higher level, with pass rates fluctuating by no more than a single percentage point.
The pass rate at Higher increased by 0.4% from last year to 74.6%. This is almost 4% more than than 70.8% pass rate achieved in 2006 and the highest since a new version of the qualification was introduced in 2003.
There was also an 0.5% increase in the total number of Credit passes at Standard Grade, which now stands at 46.6%, while 40.3% achieved General level and 11.6% Foundation level.
Pass rates at Intermediate 2 rose 1% but dropped 0.7% at Intermediate 1, while they rose 3.6% at Access 3 and dropped 0.7% at Access 2.
The number of passes at Advanced Higher - which are aimed at pupils who have already passed a Higher examination in a particular subject - dropped by 0.3% to 77.5%.
This was still higher than the 74.3% pass rate in 2006, with the number of pupils sitting Advanced Highers also increasing by more than 2,000 to 20,580 over the same period.
Students were also able to enter for the new Scottish Baccalaureate qualifications for the first time, with a total of 106 successful candidates.
The Baccalaureate is designed to encourage more young people to study science and languages in the later stages of secondary school.
Overall, the number of entries increased from 767,936 last year to 770,998, with a 5.4% decrease in Standard Grade uptake being put down to demographic reasons and an increase in students instead sitting Intermediate exams.
Scottish Education Secretary Mike Russell congratulated students, teachers and parents for the results, which he said "confirm the strength of the Scottish education system."
Mr Russell said: "We know from the national headline figures that yet again Scottish students are achieving excellent results with the record Higher pass rate particularly standing out.
"However, many young people can be disappointed or nervous, either by not getting the results they were hoping for or not being sure of what the next steps are.
"The National Exam Helpline will be open until 28 August and has 80 advisers on hand to help. Advice and information on a whole range of options, including the thousands of extra opportunities available through our Step Forward Scotland campaign for summer leavers, will be available to callers."
Dr Janet Brown, SQA's chief executive and Scotland's chief examining officer, said: "Today over 160,000 candidates will receive the results of their hard work in the form of their SQA certificates.
"The outcome will provide tangible proof that their efforts have been worthwhile.
"I want to congratulate everyone who has been involved and, whether they will be returning to school or college, moving on to Higher Education or entering the workplace I wish them continued success."
Ucas figures released earlier in July showed that 43,234 Scots have applied to university or college this year, an increase of 7,342 on 2009.
But the figure has been inflated by the inclusion of those applicants who would previously have used Scotland's Catch system for applications to nursing and midwifery courses.
Related Internet Links
The BBC is not responsible for the content of external sites.