Survey suggests 'subdued' recovery for Scottish economy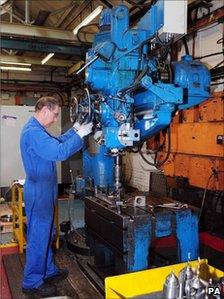 The "subdued" recovery in the Scottish economy was maintained in July, although a disparity between sectors has emerged, according to a survey.
While the manufacturing industry showed signs of a "robust" recovery, the Bank of Scotland poll suggested the service sector saw only "moderate" growth.
The data is compiled from surveys of 600 private sector purchasing bosses.
It indicated that staffing levels remained unchanged last month, compared with a slight rise across the UK.
The report is based on the purchasing managers index, which is calculated from data on new orders, production, employment and purchasing.
An index reading above 50 indicates that activity is rising. Anything under 50 shows contraction.
The PMI figure for July was 53.0 points, up from 52.9 points in June.
The survey indicated activity levels across the Scottish economy increased for the thirteenth straight month in July.
But it found growth in Scotland was "sluggish" with new orders increasing at the weakest pace in three months, and employment staying steady, in contrast with a slight increase nationwide.
The Bank of Scotland said the headline growth also "masked a marked divergence" between the manufacturing and service sectors.
It said a steep growth in new orders received by manufacturers was partially offset by a decline in the service sector.
Donald MacRae, chief economist at Bank of Scotland, said: "This month's data shows a thirteenth consecutive rise in business activity across Scotland, with recovery remaining manufacturer-led and service sector growth moderate in comparison.
"New orders rose for the sixth month in a row, however only mildly, indicating a moderate pace of recovery.
"There has been a welcome increase in growth in the key services sector and in particular in business and financial services.
"Activity in travel and tourism continues to grow, although with a slight fall in the rate. Overall, there is positive news in most areas, signalling Scotland's economy is in recovery, albeit somewhat subdued."