Fraud cases in Scotland 'halve in a year'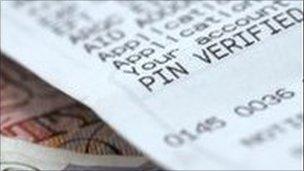 Fraud cases in Scotland have halved in the past year, according to the latest figures from consultants KPMG.
While the UK saw the highest number of serious fraud cases for 22 years, Scotland continued to see a downward trend, according to KPMG's "fraud barometer" for the first half of 2010.
In Scotland, there were six cases of fraud worth £3.06m in that period.
This was down nearly £16m from the 12 cases worth £19.5m in the same period of 2009.
The barometer keeps track of serious cases of fraud, concerning sums in excess of £100,000 in UK courts.
It showed there were 166 cases across the UK in the first six months of this year, with a total value of £608.5m.
Mortgage fraud accounted for half of all fraud committed across the UK, but this fell to an 18-month low north of the border.
KPMG said there were three cases of mortgage fraud brought before courts in Scotland in the first six months of 2010, which totalled more than £2.4m between them.
These included Ex-Dunfermline Athletic and Berwick Rangers footballer Graeme Davidson, who was charged over an alleged £355,000 mortgage fraud in March, following raids on properties in Edinburgh and Musselburgh.
In the same month, Edward Lyons, a member of a notorious Glasgow crime family, pleaded guilty to a £259,000 mortgage fraud by giving lenders false income details at Glasgow Sheriff Court.
But in both 2008 and 2009, there were two cases brought before the courts with a total value of £7.4m and £6.1m respectively.
Ken Milliken, head of forensic at KPMG in Scotland, said fraud flourished in times of economic uncertainty.
"It is highly probable that the problem is far bigger than our figures demonstrate," he said.
"Where there is economic uncertainty, fraud tends to follow - from companies in distress to individuals with financial worries, many turn to fraud as a solution.
"The recession could act as a catalyst for fraud and while today's figures are heartening, there may be a surge on the way as frauds committed at the peak of the recession are uncovered."
He said the Scottish government had invested in measures to help the fight against serious fraud, but claimed there were still opportunities for the authorities to be working more closely with business.
"Fraud is like the flu virus, as soon as one form of fraud is successfully tackled, such as the fight against long firm fraud in Scotland, it pops up in another form," he added.
"Therefore the fight is never won."
Related Internet Links
The BBC is not responsible for the content of external sites.