Scots challenge land speed record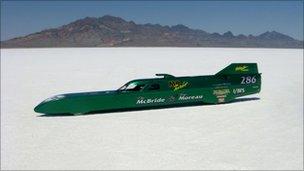 A Scottish team is to make the country's first-ever attempt to beat the world one-litre land speed record.
The Speed Scotland team will compete in the Salt Flats of Utah at the Bonneville Speed Week next week.
The current record, which was set 12 years ago, stands at 313mph (505kph).
The Flower of Scotland vehicle will be driven by Derek Palmer, 23, from Lesmahagow in Lanark, and Rick Pearson, 35, who lives and works in Switzerland.
They will compete in the one-litre supercharged category in the streamliner car.
The team is managed by Mr Palmer's father, also called Derek, and has already won various British and European championships, including the last FIA European Michelin Supertouring Championship in 2001.
The car, which is described as an "extremely tight fit", involves the driver having to lie flat and slide up the seat to jam his head into a roll cage.
Controls consist only of a steering wheel with a CO2 power shift button, two parachute levers, three fire extinguisher levers, accelerator, clutch and brake.
A small television screen above the driver's head shows an infra-red picture of the engine bay in case of methanol fire, plus water and oil temperature displays.
Speaking as he prepared to fly to the US for the challenge, Derek Palmer Snr told BBC Radio Good Morning Scotland that Flower of Scotland was packed with advanced technology.
He added: "It is a wheel driven car which drives as a conventional car through the axles, not with a jet engine, and it is 1,000cc. The technology is all in getting the thing to push as little air to the side as possible and for there to be little rolling resistance.
"It is absolutely tiny - the car is only 22in wide and its less than 3ft high so it is the height of someone lying on their back. It is as small as it possibly can be to make as little a hole in the air as possible.
"The driver lies on his back with only his head tilted forward to be able to see out. It is pretty basic, you just need quite a big heart and a lot of confidence. It is very intense as you are only in the car for maybe four minutes but you are talking about pushing the thing hopefully up to around 360mph."
But Mr Palmer, who runs Pro Motorsport in Lesmahagow, insisted the team was not unduly worried about the dangers of hitting such hair-raising speeds on the Utah flats.
He said: "The real brave guys were the guys in the past who just set sail with a huge engine and no knowledge of where it was going. Computers have made things much safer now."
Related Internet Links
The BBC is not responsible for the content of external sites.