'First' newborn beavers spotted in the Argyll Forest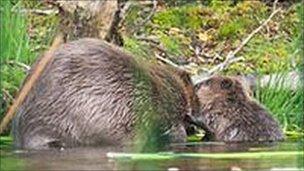 The first newborn beavers born in the wild since their re-introduction to the UK last year have been spotted by officials in a Scottish forest.
At least two kits, estimated to be eight weeks old and belonging to different family groups, have been seen in Knapdale Forest in Argyll.
A total of 11 beavers were brought to Scotland from Norway last year as part of the Scottish Beaver Trial.
Beavers were hunted to extinction in the UK 400 years ago.
Some feral beavers have been known to exist in the wild as a result of being released by people who owned them as pets.
Christian Robstad, beaver field officer for the Royal Zoological Society of Scotland, described seeing the new arrivals was an "amazing" experience.
"After weeks of patient observation, we were finally rewarded with not just one kit being spotted but a second kit from a different family group as well," he said.
"The first emerged as part of a 'family outing' with its parents and older sister close by to offer additional protection.
"It kept close to the edge of the loch and called out to its family for reassurance while it began to learn to forage for food."
The reintroduction is a partnership between the society and the Scottish Wildlife Trust.
Simon Jones, Scottish beaver trial project manager with the trust, said the kits marked a "fantastic step forward" for the trial.
He said: "Both these beaver families are real trial success stories, having settled into Knapdale very well.
"Both have built their own lodge and one family has had great success building a dam to access better food supplies.
"This has created a magnificent new area of wetland in which wildlife is now flourishing in.
"There is a chance that even more kits have been born this year.
"We will be tracking our animals closely and hope to determine the exact number of kits produced as part of the trial soon."
Beavers were a native species to the UK and were once common before they were hunted to extinction by man.
The trial aims to provide information which could determine whether or not animals are reintroduced into the wild across Scotland.
Scottish Environment Minister, Roseanna Cunningham, said: "It's exciting to see these beavers thriving in Knapdale Forest and producing beaver kits so soon after their reintroduction.
"We were hoping that this would happen and I'm looking forward to watching the progress of the beaver families over the coming years."
Nick Purdy from Forestry Commission Scotland, the trial's host partner, said: "We are delighted to have the beavers resident in Knapdale and this is just the news we have been hoping for.
"I know visitors will be keen to get a sighting of the new arrivals, but will also understand that this is a very sensitive time for these beaver families.
"It would be of great help to the beavers if the public avoided the loch edge for the next few weeks to help minimise disturbance while the kits get used to their new environment."
The kits are currently thought to be about the size of large guinea pigs.
The young weigh about 1lb (450g) at birth, are born with a full coat of fur, their eyes open and the ability to swim.
Related Internet Links
The BBC is not responsible for the content of external sites.