Grieving family of Suzanne Pilley speak out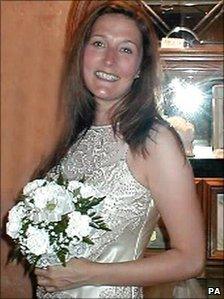 The father of missing Edinburgh woman Suzanne Pilley has spoken of his devastation as preparations began for a large-scale search to find her body.
Robert Pilley, 67, described the heartbreak his family had gone through over the three months since his youngest daughter disappeared.
Mr Pilley said: "If we could put a closure to it, maybe the grieving would be a lot better."
The 38-year-old bookkeeper disappeared in May.
Her former lover, David Gilroy, denies her murder.
Mr Pilley said: "It's just one of these things - we never seem to be able to get to the end of it.
"We just take it day by day. The whole family is just totally devastated. I just don't know when it's going to end."
Mr Pilley also said he suspected she was dead just days after she disappeared.
"The thought that we're never going to see her again - it's really heartbreaking."
He added: "Even going to the shops, you see a girl going down an aisle - it's happened a few times - a girl with the same coat on, the same colour of hair, same height. Your heart stops for a minute or two."
The family later released a statement thanking members of the public for their help in trying to find her body.
A large-scale search is to take place around the Argyll Forest this weekend for Ms Pilley.
Volunteers from four mountain rescue teams will join Lothian and Borders and Strathclyde Police in an effort to try to find Ms Pilley's body.
Up to 100 people will be involved, with searches focussing on the Glencroe area on Saturday and Sunday.
Det Ch Insp Gary Flannigan said: "To undertake a search like this is very unusual in such challenging terrain, and it's a first for Lothian and Borders Police to have the assistance of mountain rescue teams from all over Scotland.
"Since Suzanne was reported missing, searches have been based on national advice and guidance on the most appropriate techniques for covering such a vast area of varied terrain.
"The search this weekend is no different, with expert advisors pinpointing the areas to be covered."
He added that he was very grateful for the support of the mountain rescue volunteers whose "specialist knowledge will be a valuable resource for us to draw on this weekend".
Related Internet Links
The BBC is not responsible for the content of external sites.