Two-day forest search for missing Suzanne Pilley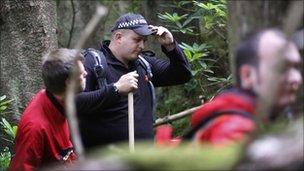 A two-day search took place in the Argyll Forest to find the body of missing Edinburgh woman Suzanne Pilley.
The 38-year-old bookkeeper disappeared on her way to work in the capital on 4 May. Her former lover, David Gilroy, denies her murder.
About 150 volunteers joined police officers from Lothian and Strathclyde Police forces over the weekend.
Mountain rescue dogs were also used to scour the 6.25-mile stretch of dense woodland and forest.
The investigation, involving volunteers from Arrochar, Lomond, Oban and Tweed Valley mountain rescue teams, was concentrated in the Glen Croe area.
The weekend operation came after Miss Pilley's father Robert said his family was desperate for "closure" regarding the case.
He said of the search: "It's taken a lot of organising and I really feel we've got hope they can find something."
Miss Pilley failed to turn up at work after taking a bus to the Thistle Street premises of Infrastructure Managers in Edinburgh city centre.
Within days, the focus of the investigation into her disappearance switched to Argyll, where officers and dog teams began searching parts of the vast area between Tyndrum and Inveraray.
Gordon Gregory, from Trossachs Search and Rescue Team, headed out on the second day helped in the search by rescue dogs.
Before joining searchers on Sunday, he said: "We are an urban and rural rescue team and we have helped when people have been trapped in buildings. Our dogs are trained to pick up the scent of people whether they are alive or dead.
"There are about 150 volunteers today and 30 to 40 police specialists.
"It's warm and sunny but there is no wind here which won't help the dogs as they pick up scents on the wind. It's not a problem it just means the dogs will work harder and will cope."
Mr Gregory, who has been with Trossachs Search and Rescue Team for 12 years, said teams involved on Saturday were stood down at about 1900 BST.
He added: "Yesterday we had 14 members involved and today we have 10 and two search dogs. It was quite hard going yesterday with a lot of dense woodland.
"Lomond and Arrochar Mountain Rescue and some members of Trossachs Search and Rescue Team and Tweed Valley Mountain Rescue will be conducting searches in some areas together today."
In June, Mr Gilroy, 47, was released on bail after appearing at Edinburgh Sheriff Court charged with murder and breach of the peace in connection with the inquiry.
Related Internet Links
The BBC is not responsible for the content of external sites.