Scottish NHS in cervical smear test take-up bid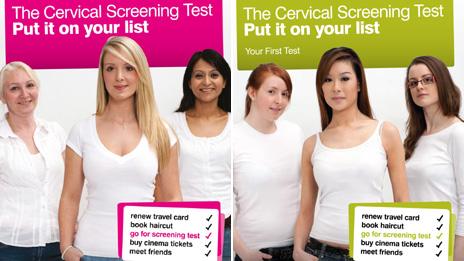 Health chiefs in Scotland are embarking on a new campaign to encourage more women to have cervical screening tests.
Specially commissioned leaflets will explain what is involved in the examination to detect the potentially-fatal cancer.
The NHS acted after finding that, of the 300,000 women in Scotland eligible each year to take the so-called smear test, about 75,000 fail to show.
Women aged 20 to 60 are invited for testing every three years.
Research published last year on attitudes to cervical screening uptake involved interviews with health professionals who found that women "can be unaware of the risk of cervical cancer".
It also found from interviews with a cross-section of women that they were either unaware or had never considered a link between sexual activity, cervical cancer and screening.
The research also discovered that high-profile cases such as the death from cervical cancer of TV reality contestant Jade Goody had raised awareness of the disease and the importance of screening.
However, the researchers said it was difficult to assess "how long this effect will keep the risk of cervical cancer front of mind for eligible women".
Carol Colquhoun, national screening programme co-ordinator, said: "We want to encourage as many women as possible to go for their cervical screening test by putting it on their list of things to do.
"We've listened to what women told us and have introduced new leaflets that provide women with the answers and reassurance they are looking for.
"I would urge all women invited for cervical screening to put it on their list.
"Ignoring the invitation leaves women unprotected from the early signs of cervical cancer.
"Cervical screening saves lives so put it on your list."
The publicity campaign is based on four leaflets including;
"The Cervical Screening Test: Put it on your list" - this will be sent with the screening invitation.
"The Cervical Screening Test: Your First Test" - this is aimed at those who have been invited for the first time.
"The Cervical Screening Test: Information for Lesbian and Bisexual Women" - this is to address specific questions considered by lesbian and bisexual women.
"The Cervical Screening Test: Your Results Explained" - this will be sent with screening results and is designed to explain test results and what to expect as a follow up.
Scotland's Public Health Minister Shona Robison said it was vital that information was available to women outlining how important screening was.
Of the leaflets, she added: "They explain to women simply, clearly and sensitively what to expect. I hope women find them informing and reassuring."
Posters are also being made available for use in healthcare and community settings including GP surgeries, pharmacies, sexual health services, health promotion libraries, higher and further education establishments, and voluntary sector agencies.
The smear test is carried out to identify changes in cells in the cervix - or neck of the womb - so that these can then be treated.
The test saves about 5,000 lives in the UK every year and has prevented eight out of 10 cervical cancers from developing.
In Scotland in 2008, a national immunisation programme to protect against the most common cause of cervical cancer, the Human Papilloma Virus (HPV), was introduced for all girls in the S2 year of school.
Related Internet Links
The BBC is not responsible for the content of external sites.