Plan for first floating wind farm off Scotland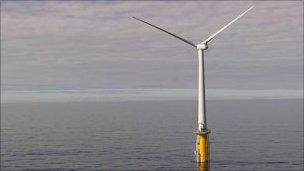 First Minister Alex Salmond is seeking to establish the world's first floating wind farm off the coast of Scotland.
The prospect came as he arrived in Norway as part of a mission to strengthen trade links.
Norwegian oil company Statoil has identified two potential sites off Lewis and Aberdeenshire.
It would allow tests of the firm's Hywind floating turbines, which have been tried out in Norway, opening the door to a full-scale scheme.
Mr Salmond, who met Statoil officials during a three-day visit to Stavanger and Oslo, said: "Scotland has unrivalled marine resources and, with massive offshore wind potential, we are leading the way in the generation of clean, green energy from the sea.
"Our waters are estimated to have as much as a quarter of Europe's potential offshore wind energy and we are perfectly positioned to develop the technology that will power this remarkable renewables revolution."
The first minister is also speaking with Norwegian ministers about the benefits of the country's state oil fund, worth more than £300bn, amid his desire for a similar scheme in Scotland.
Mr Salmond said offshore wind could bring in £30bn of investment and 20,000 jobs, while a Scottish oil fund could be worth billions of pounds.
He is also visiting officials at Statnett, a state-owned enterprise with responsibility for operating and constructing the stem power grid in Norway.
Commenting on the visit, Liberal Democrat energy spokesperson Liam McArthur, said: "Alex Salmond is never happier than when he is treading modestly upon the international stage.
"However - I hope he will use his time in Norway to consider how his hosts approach the task of developing a robust and effective supply chain."
And Labour's Sarah Boyack used the trip to hit out at the Scottish government for closing its scheme to boost renewable energy in communities, adding: "There are scores of communities who would not have been able to created jobs and power without the support and investment that this scheme has brought.
"It is a great pity that communities will be left high and dry while SNP ministers think about what to do next."
Related Internet Links
The BBC is not responsible for the content of external sites.