Scottish jobs market 'goes into reverse'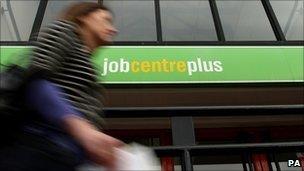 The slow recovery in Scotland's jobs market has gone into reverse, according to a survey of recruitment companies.
Markit economic consultancy found permanent jobs declined in July, while the growth in temporary job numbers had slowed.
Pay for those securing new permanent jobs fell from previous months.
The biggest factor in worsening the outlook for job seekers was the growing number of people now entering the market and competing for work.
The number of vacancies increased, but they were not being matched with the skills available.
Computing and information technology had the most new vacancies, according to the Marki survey.
July saw the second consecutive month of deterioration in job market conditions.
The labour market barometer, carried out for Bank of Scotland, showed that the gap between Scotland's worsening conditions and the improvement across the rest of the UK was wider than any point over the past year.
The survey of 1,000 recruitment consultants showed Edinburgh agencies had the strongest improvements in both permanent and temporary appointments.
Glasgow registered the steepest rises in the number of people seeking temporary and permanent jobs, while Aberdeen was the only centre out of four to register starting salaries holding firm.
While pay for new starts fell for the second month, the hourly rate for temporary workers rose.
Donald MacRae, chief economist at Bank of Scotland, said: "Unfortunately we saw the first fall in the number of appointments to permanent jobs in 10 months. However, temporary appointments rose for the eleventh month in a row.
"The numbers of vacancies also continued to grow, albeit at slower rates for both permanent and temporary jobs.
"Previously inactive workers returned to the jobs market again during July, resulting in the number of candidates seeking employment rising at marked rates. This was the main reason behind the marginal deterioration in job market conditions.
"Overall, July was a challenging month for the Scottish employment market".
Related Internet Links
The BBC is not responsible for the content of external sites.