Confidence dips for oil and gas sector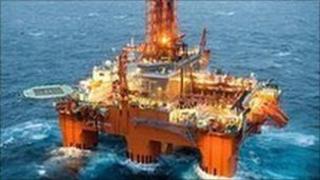 A lack of confidence across the economy is also hitting confidence in Scotland's oil and gas sector, according to an accountancy firm's analysis.
Ernst & Young's oil and gas index fell sharply in the second quarter of this year, as the companies within it found stock prices falling. It had risen over the previous five quarters.
The firm's report also highlighted the lack of new company flotations on the Alternative Investment Market, the junior market to the London Stock Exchange, where many of the smaller operators in the offshore sector are listed.
The companies found to be doing well were those with good news to report on new oil and gas discoveries. Two-thirds of the sector registered a fall in share price during the second quarter.
Larger oil companies also suffered as a result of the fall-out from BP's Deepwater Horizon spill in the Gulf of Mexico, which has meant a ban on deep sea drilling in US waters, and constraints in other countries' waters.
Alec Carstairs, oil and gas partner at Ernst & Young in Aberdeen, said: "Oil and gas stocks were hit by the wider sell-off in equities as investors anxiously watched the sovereign debt crisis in Europe unfold.
"There also continue to be lingering concerns over the strength of global economic growth, particularly with many governments proposing substantial and wide-ranging spending cuts in an attempt to reduce their fiscal deficits.
He added: "Investors tend to look for safe havens in uncertain times, which could hamper the ability of perceived riskier junior oil and gas stocks to attract funding."