National seatbelt campaign launched in capital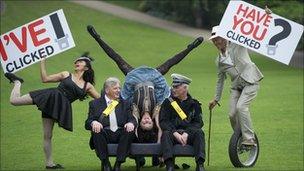 Edinburgh festival performers helped to mark the launch of a road safety campaign to encourage Scots to wear their seatbelts on every journey.
The campaign called "Have You Clicked?" is a collaboration between the Scottish government and Road Safety Scotland.
The aim is to change the behaviour of drivers and passengers.
Police in Scotland catch an average of 27,000 people a year not wearing a belt, and about 14% of people do not wear them all the time.
Michael McDonnell, director of Road Safety Scotland, said: "We know that many people are still shunning seatbelts by not wearing them every time, and police are catching thousands of people a year.
"The new campaign is aimed at encouraging drivers and passengers to think of putting on a seatbelt as something they do, almost without thinking about it, every single time."
The campaign is being rolled out with a new advert on TV, as well as national and regional radio and in cinemas across Scotland from the 30 August.
PC Jack McBirnie, a collision investigator with Lothian and Borders Police, said: "Putting on a seatbelt is a straightforward task but too many people are still risking their own and others' lives by not wearing one.
"Even at just 30mph, a crash could propel you forward with huge force. Seatbelts only work if you wear them every time."
Related Internet Links
The BBC is not responsible for the content of external sites.