Scottish drug death drop revealed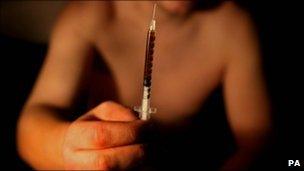 The number of drug-related deaths in Scotland fell last year but still remains high, according to new figures.
There were 545 drug-related deaths in 2009 - 29 fewer than the previous year and the second highest on record.
Heroin and morphine were linked to more than half of the total.
The Registrar General for Scotland warned the number had risen in seven of the past 10 years, with the long-term trend heading upwards.
Heroin and morphine were the biggest contributor, linked to 322 deaths, while heroin substitute methadone was implicated in 173 deaths.
Benzodiazepines, such as diazepam, were involved in 154 deaths, while cocaine, ecstasy and amphetamines were implicated in, or potentially contributed to 32, two and six deaths respectively.
Alcohol was linked to 165 deaths in the Scottish government-published figures.
Scotland's three-year £94m Scottish drug strategy focuses on helping addicts into recovery, and ministers said they had provided record investment for drug treatment services.
Community Safety Minister Fergus Ewing said the government was doing all it could to tackle problem drug use in Scotland.
He said: "Fewer people lost to drug use is always good news, but we must acknowledge that these figures remain high.
"It is clear we continue to face a challenge to help steer people away from problem drug use and towards recovery."
Mr Ewing also announced a two-year national trial of naloxone, which reverses the effects of heroin overdoses, providing more time for an ambulance to be called and treatment to be given.
The opiate will be supplied to key drug workers and to all prisoners likely to be vulnerable to an overdose before they are released.
Labour community safety spokesman James Kelly called for greater use of drug treatment and testing orders, while Deputy Scottish Conservative leader Murdo Fraser demanded the new national drug strategy, spear-headed by his party, be put into action.
And Lib Dem health spokesman Ross Finnie said addicts were still waiting too long for treatment.
But Dr Roy Robertson, chairman of the National Forum on Drug-Related Deaths, said he hoped several drug initiatives set out in 2010 would have an impact in future years.
He added: "Taking into account what we have experienced in the past concerning the general upward trend in figures, this year's drug related deaths show a similar pattern to previous years.
"Any reduction is, however, welcome as each death is a personal tragedy and a family and community disaster."
Related Internet Links
The BBC is not responsible for the content of external sites.