GPs 'could spot patients at risk of benefit dependency'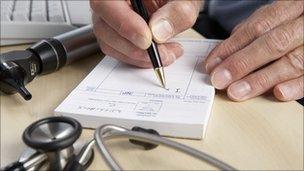 GPs could spot patients who might go on incapacity benefit for mental health issues three years before they stop working, research has suggested.
A study, led by a team at Glasgow University, showed the frequency of GP visits by patients rose significantly prior to the benefit claim being made.
They believe the data could help target patients before they become dependent on benefits and keep them in work.
The research is published in the British Medical Journal.
The number of people claiming incapacity benefit and severe disablement allowance has risen by more than 300% in 30 years.
The annual cost to the UK economy is estimated to be about £100bn.
The authors of the study investigated data from the 1995, 1998 and 2003 Scottish Health Surveys and from the 1991 to 2007 British Household Panel Survey to examine variation in incapacity benefit claims across the country.
The results showed that three years before an incapacity benefit claim was made, the frequency of GP consultations for patients experiencing emotional distress rose significantly.
The researchers, led by Professor Jill Morrison, also found no real variation across GP practices in the UK in the rate of patients claiming long term sick benefit.
Instead, the team found that varying rates of benefit claims were down to population differences and not certain GPs issuing sickness certificates inappropriately.
But Prof Morrison warned that the current policy of getting people who were on long term benefit back to work might not be effective.
Instead, she said that vulnerable patients needed to be given appropriate support to keep them in work in the first place.
However, she added: "Further work should concentrate on determining what outcomes are achieved by general practitioners who provide additional emotional or occupational support for patients identified as at risk of becoming dependent on long term benefits."
Professor Mark Gabbay from the University of Liverpool welcomed the report.
He said: "Being out of work is bad for health and increasing evidence shows that good work (which reflects elements of fair pay and conditions, job control, and satisfaction) is good for health."
Related Internet Links
The BBC is not responsible for the content of external sites.