Damp July blamed for weak Scots retail sales growth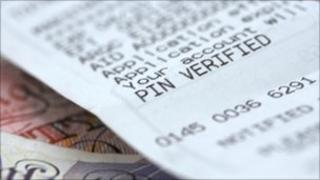 Scots shoppers are preparing for the worst, according to the monthly survey of consumer spending, which also showed the weakest growth in 10 years.
Like-for-like sales in July were 1.4% lower than the same time last year, the Scottish Retail Consortium-KPMG Scottish Retail Sales Monitor found.
The inclement weather was blamed for consumers keeping their wallets in their pockets.
Clothes, food and drink sales were all down compared with 12 months earlier.
The survey showed consumer confidence fell more in Scotland than in the rest of the UK, where sales were 0.5% higher than July 2009, when they had risen 1.8%.
The cool July days hit sales of fresh fruit and vegetables, soft fruit and ice cream, whereas salad sales held up on sunnier days, according to the figures.
KPMG's head of retail in Scotland, David McCorquodale, said: "With uncertainty around the identity of the target of the cuts in the public sector, it is clear that the Scottish consumer has opted to plan for the worst and address the family budget rather than defer the day."
'Purse strings'
July's fall was the worst since August 2000, apart from April 2010 when the year-on-year comparison was weakened by Easter falling earlier than in 2009.
Excluding Easter distortions, total sales in July were only 0.8% up on a year ago, the weakest growth since April 1999.
Like-for-like food sales fell by 0.3% and non-food sales by 2.5% in Scotland compared with a year ago.
Homewares and DIY also struggled as cautious consumers prioritised essential items and replacements over big ticket items, and furniture purchases remained clouded by weak consumer confidence.
Enterprise Minister Jim Mather said: "The latest Scottish government figures, for the second quarter of 2010, showed a 3.3% increase in the value of retail sales over the year.
"While this is evidence of improved consumer confidence, it is clear from the Scottish Retail Consortium's findings for July that we must continue to do all we can - through our Economic Recovery Plan - to support jobs, retailers and nurture long-term sustainable growth."
Conservative enterprise spokesman Gavin Brown said: "Scots are understandably worried as the new UK government gets to grips with Labour's legacy of debt - the worst budget deficit in peacetime history.
"Clearly people are looking to save some of their cash ahead of the tough choices they know have to be made. Scotland needs a government that protects vital public services but delivers more for less."
Labour finance spokesman Andy Kerr said the figures showed is that the combination of SNP cuts and the those being proposed by the Tories was exposing Scotland to the risk of a double-dip recession.
He added: "This is just the latest set of statistics that show Scotland is falling behind the rest of the UK. We have fewer business start-ups, higher unemployment and lower levels of consumer confidence.
"Alex Salmond cannot escape responsibility for his government's poor economic record."