BeCogent call centre firm sold to Teleperformance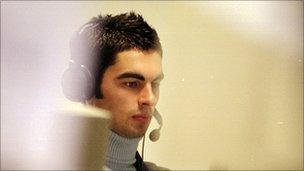 A major Scottish company which provides call centre support has been sold to a French rival.
BeCogent runs contact centres for major consumer brands and employs 2,000 people, with 1,000 workers in Airdrie and smaller centres in Erskine, Kilmarnock and Glasgow.
It has been bought by Teleperformance for £35m. The company was set up in West Lothian 11 years ago.
Customers it deals with include Sainsbury's and Virgin Media.
Dermot Jenkinson, founder and executive chairman of beCogent who lives near Greenlaw in the Borders, said: "I believe that the DNA of beCogent combined with the strength and scale of Teleperformance will create a truly world class business in the UK and allow us to take advantage of the opportunities that will present themselves in both the private and public sectors over the next few years."
Jeff Smith, chief executive of Teleperformance UK, said the combined strength of beCogent and Teleperformance Group would help to develop its UK presence.
The company said the deal would make it the second largest operator of outsourced contact centres in the UK.
Related Internet Links
The BBC is not responsible for the content of external sites.