Scottish Enterprise bosses' £1.2m in pay and bonuses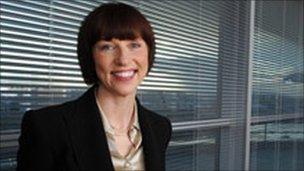 Bosses at economic development agency Scottish Enterprise earned more than £1.2m in pay and bonuses in the last year, it has emerged.
The organisation's annual accounts for the year to March 2010 show the wage bill was split between four executive board members and four senior staff.
Scottish Enterprise said its efficiency drive, including management spending cuts, had saved £25m in two years.
And the agency said it had supported 10,000 companies in the last year.
The Scottish Enterprise management wage bill, which stood at £1.226m, included £271,000 paid to its former chief executive Jack Perry, who announced he was quitting last May.
His payment included £115,000 which he received when he stepped down from the post without working his full 12-month notice period.
The agency's top earner, Lena Wilson, who became chief executive in November, was employed on a salary of £191,000 and received £11,000 in bonus money.
She was previously Scottish Enterprise's chief operating officer and chief executive of Scottish Development International.
Scottish Enterprise said it had helped thousands of businesses through the economic downturn, and made major investments in Scottish ventures such as £24m for the Edinburgh Bio Quarter.
The agency also pointed out it had put a new, slimmer management team in place, and had saved £3.5m in the last two years by cutting 35 director posts.
The chief executive's pay package is agreed with the Scottish government remuneration group.
Ministers see Scottish Enterprise as playing a crucial role in delivering their top ambition of economic growth, as well as fighting the effects of the recession.
But Scottish Lib Dem leader Tavish Scott, a strong critic of the Scottish Enterprise wage bill, said: "Health boards are cutting nursing posts, 90% of new teachers can't get a job and small businesses are folding, yet the government's main economic agency has awarded its chief executive and board members bumper salaries.
"The chief executive, appointed last year, continues to receive over £200,000 a year, despite Scottish Enterprise being halved."
Tory enterprise spokesman Gavin Brown, added: "Like any agency funded by the public purse, every single pound has to be accounted for and justified.
"I am calling on the Scottish government to justify the payout of £115,000 made the former chief executive of Scottish Enterprise in lieu of notice.
"Paying someone for the work that they do is one thing, but paying them for work they don't do is truly something else. Why did the new chief executive not simply start at the end of the previous chief executive's notice period?"
A Scottish government spokesman said the accounts demonstrated some of the excellent work Scottish Enterprise was doing to help sustain the country's return to economic growth.
He added: "Scottish ministers have written to leaders of organisations across the public sector to emphasise the need to deliver full value for the taxpayers' money in the current climate and in the face of Westminster spending cuts.
"The Scottish government is keeping a tight rein on public sector pay in general and has frozen pay for high-earning public employees to ensure delivery of full value for taxpayers' money."
Related Internet Links
The BBC is not responsible for the content of external sites.