There's only 'two' Jim Jefferies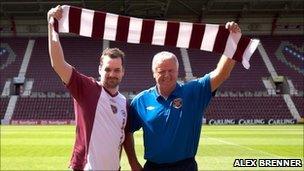 Australian comedian Jim Jefferies says posters for his Edinburgh Fringe show are the most defaced in town.
It could be something to do with the funnyman sharing his name with the manager of Hearts football club.
The comedian said he thought rival teams were not pleased about having the name of the Hearts legend plastered on billboards all over town.
The two Jim Jefferies met at the Scottish Premier League club's Tynecastle Stadium.
Jim the Fringe performer received some coaching from football Jim.
And they swapped tickets to their respective matches and shows.
Jim Jefferies is appearing at the Underbelly's Pasture venue, each night at 2230 BST.
The other Jim is preparing to take his club to play Hamilton on Saturday.