Coalition government - Scottish view on first 100 days
By Lorna Gordon
BBC News Scotland correspondent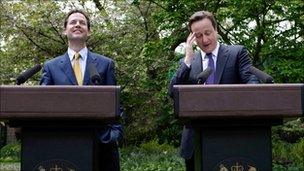 David Cameron made it clear on taking office that he wanted a fresh start between the Westminster and Scottish parliaments, and between the two governments.
So a 100 days into the coalition government how is this relationship faring?
It certainly started well. The prime minister visited the Scottish Parliament during his very first week in office. He talked of an agenda based on respect.
One senior figure in the Scottish government said to me, however, that although the relationship between the two governments started with warm words and good intentions, there has so far been little evidence of any concrete delivery.
The SNP government wants, for instance, the Treasury to release £160m for Scotland held in the fossil fuel levy. It has been discussed, and may yet happen, but not so far.
Inevitably there is much potential for disagreement when it comes to money.
The government in Edinburgh argues that the coalition cuts are too soon and go too deep, and would have a detrimental impact on Scotland's economic recovery.
One area where any potential cuts would have a clear impact on Scotland is in the area of defence.
Britain's nuclear deterrent is based in Scotland. The SNP government doesn't support Trident.
They argue renewing it would be at the expense of more conventional forces. Already there is speculation the planned strategic defence review could see RAF bases in Scotland close down; that the carrier project for the navy could be curtailed.
That could mean the loss of many jobs in areas of Scotland where jobs are scarce.
What about reforms to strengthen the Scottish Parliament? They're on the cards.
The coalition government plans to introduce the "Calman Bill" to give the Scottish Parliament power to legislate over airguns, drink-driving and speed limits. It would also increase its power over varying income tax.
The coalition plans to hold a referendum next May on an alternative voting system have met stiff resistance.
The date would coincide with the Scottish election and Labour has said this shows the coalition government is two-faced.
There are others who question why there hasn't been a single word of consultation with the Scottish government on the timing of this referendum if indeed this is meant to be a new relationship based on respect.
Related Internet Links
The BBC is not responsible for the content of external sites.