Scottish aid consignment arriving in Pakistan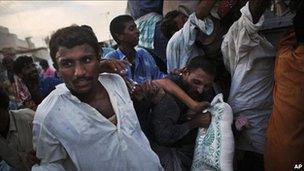 An aid consignment from Scotland is due to arrive in Pakistan to help victims of the country's flooding disaster.
The aid package, which left Glasgow Airport on Wednesday, includes 4,000 collapsible water containers and 10,000 sterilisation tablets.
The Scottish government has committed £900,000 to Scottish-based aid organisations working in the region.
The equipment was donated by Scottish Water, with the government co-ordinating efforts.
Glasgow-based charity Ucare foundation negotiated free handling and transport of the shipment via ServisAir and Pakistan International Airlines.
Scottish External Affairs Minister Fiona Hyslop watched the plane carrying the supplies leave Glasgow Airport.
She said: "We understand that access to clean water is one of the greatest challenges and most urgent requirements in the affected areas.
"This equipment will be put to use as soon as possible by the Pakistan government's National Disaster Management Authority."
About 1,600 people have been killed and Pakistani authorities say as many as 20 million people are affected by the floods.
The UN says six million desperately need emergency aid but most still have not received it. Tens of thousands of villages remain under water.
Ms Hyslop added: "The scale of suffering being experienced in the flood-hit areas along the Indus river is unbelievable.
"The Scottish government has already committed to making £900,000 available for disaster relief and development work by Scottish-based organisations. The disaster relief funding will be allocated very shortly."
The Consul General for Pakistan in Scotland, Mr Shehryar Akbar Khan, said: "The government of Pakistan and its people greatly appreciate the assistance provided by the Scottish government in this hour of need. I am personally touched by the prompt response of Ms Hyslop and her team."
He added: "I hope today's consignment from Scottish Water will further encourage government and non-government entities to come forward with humanitarian assistance to save the lives of countless millions in desperate need."
The European Union has promised an extra $39m following higher commitments from Australia and Japan, while the Islamic Development Bank pledged $11.2m.
The UN has said it has now raised nearly half of the $460m it needs for initial relief efforts.
Meanwhile new flood warnings have been issued in some areas of Pakistan.
BBC Urdu will transmit six daily bulletins in Urdu and Pashto providing vital information including how to stay safe, avoid disease and access aid. Special programmes will be broadcast each day in Urdu at 12.30, 15.30 and 18.30 and in Pashto at 12.45, 15.45 and 18.45 (local times).
Related Internet Links
The BBC is not responsible for the content of external sites.