Doctors make plea over prescriptions system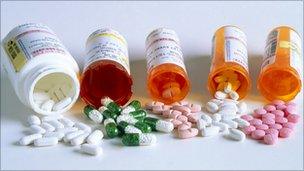 A standard system for prescriptions is urgently needed to reduce errors and improve hospital patient safety, senior doctors have warned.
The Royal College of Physicians of Edinburgh (RCPE) found that during one week, 10% of trainee doctors and 6% of consultants made prescribing mistakes.
The findings support previous studies suggesting that as many as one in nine hospital prescriptions were wrong.
The RCPE said the problem lay in the varied systems used to prescribe.
They have called on the Scottish government to bring in new rules to standardise the system, which can vary from one hospital to another.
In response, a spokesman for the government said extensive systems "were in place to ensure patient safety".
He added: "However, we are not complacent and we are always looking to improve further.
"The possibility of a standardised prescription form is under active consideration with our colleagues across the UK."
RCPE president Dr Neil Dewhurst said action was needed given that many physicians, especially junior doctors, moved frequently between hospitals.
Doing away with the differences, he said, would improve medical training and protect patients.
He has called for a national prescribing chart similar to that introduced in Wales in 2004.
He said: "Local variation in prescribing charts has existed for many years, but has not been addressed by successive governments and should now be given greater priority.
"Putting it simply, patients should expect a standardised system of prescribing regardless of which hospital in Scotland they are treated."
Dr Dewhurst added: "Doctors also frequently move around the NHS within the four home countries of the UK.
"It would therefore be logical to follow Wales' example by developing a national prescribing chart for Scotland initially and then to work towards a UK-wide prescribing chart for use across the whole of the NHS."
The RCPE said the introduction of a standardised drug chart would also support the implementation of nationally-agreed programmes.
For example, a prominent reminder on the chart about screening for Venous Thromboembolism (VTE), the development of blood clots within veins, would ensure patients were checked regularly and received the appropriate treatment.
About 25,000 deaths a year are attributed to VTE across the UK.
Related Internet Links
The BBC is not responsible for the content of external sites.