Call to prevent serial killer Tobin's appeal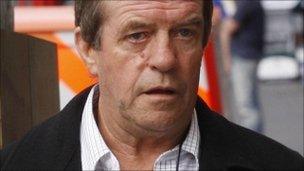 Scotland's justice secretary has agreed to meet the father of a murdered schoolgirl amid calls for killer Peter Tobin to be denied the right of appeal.
Michael Hamilton, 60, wrote to Kenny MacAskill to complain about the cost of Tobin's appeal against his 30-year sentence for killing Vicky Hamilton.
The 15-year-old, from Falkirk, was murdered by Tobin in 1991.
The 63-year-old is also serving life terms for killing 23-year-old Angelika Kluk and Dinah McNicol, 18.
Mr Hamilton said more than 1,700 people had signed a petition urging a change in the law so Tobin would be prevented from embarking on further appeals.
His appeal against the sentence he received for killing Miss Hamilton was delayed in July after he reportedly took ill and was unable to appear at the appeal court in Edinburgh.
In a letter to Mr Hamilton, Mr MacAskill said: "The pain that you and your loved ones have endured is more than anyone should have to suffer and I would like to extend to you my deepest sympathy.
"In your letter you requested a meeting to discuss the appeal against sentence by Peter Tobin.
"I would be very happy to meet with you to hear your views.
"I regret though that I would not be able to discuss the appeal directly at our meeting as it is a pending case still going through the courts."
A spokeswoman for the Scottish government added: "The outcome of appeals are matters for the courts to determine rather than politicians".
Mr Hamilton told the BBC News Website that Tobin's current appeal was a way for the serial killer to "play the system".
He added: "Public money should not be going to waste on a man who has committed three murders.
"It's just ridiculous when you consider that he's never going to get out of prison anyway."
Tobin was convicted of murdering Miss Hamilton following a trial at the High Court in Dundee in December 2008.
The handyman was also convicted of murdering 18-year-old Dinah McNicol in December 2009 while he was already serving a life sentence for the murders of Miss Hamilton and a third woman, Angelika Kluk, 23.
Miss McNicol vanished in August 1991 while hitchhiking to her home in Tillingham after leaving a music festival in Liphook, Hampshire.
Detectives investigating the girls' disappearances focused their attention on Tobin after he was convicted of killing Miss Kluk - a Polish student staying at a room in a Glasgow church - in May 2007.
Related Internet Links
The BBC is not responsible for the content of external sites.