CBI Scotland warning over council tax rise
By Jamie McIvor
BBC Scotland local government correspondent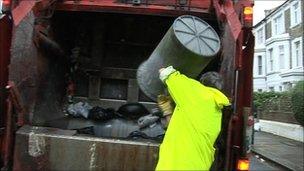 One of Scotland's leading business organisations is warning councillors and Holyrood politicians against raising the council tax next year.
The warning from the CBI came as the organisation that represents Scotland's councils - Cosla - launched its first poster campaign in 35 years in a bid to help protect local authority budgets.
In the past week, several councils have said they would like to be able to consider raising the council tax next year without losing money from the Scottish government in return.
The aim of Cosla's campaign is to highlight the role councils play in communities across Scotland and demonstrate the risks attached to spending cuts.
Councils across Scotland are expecting to have to make substantial savings over the next few years. They have warned of big cuts to jobs and services and charges for services which are currently free.
Thousands of jobs are likely to go too. So far, councils have announced plans to reduce staff numbers by 11,000 - but the final total may be much higher as most councils have not given figures.
Last week the leader of Glasgow City Council, Gordon Matheson, said councils should have the option of raising the council tax without losing government money to try to minimise the impact of the cuts.
Some other councils - including East Renfrewshire and West Dunbartonshire - have expressed some degree of sympathy with this argument.
The Scottish government has expressed an aspiration to freeze the council tax for a fourth year in a row, but in a BBC interview last week the deputy first minister Nicola Sturgeon would not make a promise to do so.
The Holyrood administration will not know how much money it will have to spend next year until after the UK government's Comprehensive Spending Review in October. It can then decide how much it can give councils and other public bodies.
However the Scottish government has promised to protect NHS spending. The president of Cosla, Councillor Pat Watters, has argued that it is unfair to protect the NHS without giving a similar promise to protect local authority services.
Cosla's posters will be displayed at council facilities across Scotland and will be backed up by lobbying campaigns.
Cosla president Pat Watters said: "In a battle of hearts and minds, the NHS with its cancer, heart operations and delivering babies will always win out over the image of local government.
"The bottom line is, however, that local government does provide a huge range of services that enable our communities to grow and flourish. And most people's interaction with the health service is only on the odd occasion they are ill."
He added: "Our main objective is to retain our share of resources and inform the public of why this is vital and of the consequences if we don't."
Meanwhile the CBI urged another council tax freeze.
The director of CBI Scotland, Iain McMillan, said Scotland's politicians "should think very carefully" before increasing council tax from next April.
He continued: "I understand the pressures that local authorities are under but council tax increased by 47% in the 10 years prior to the Scottish government's freeze from 2008 while inflation, as measured by the Retail Prices Index (RPI), rose by only 32% in the same period.
"When compared against the government's preferred measure, the Consumer Prices Index (CPI), the gap between inflation and council tax rises was even greater.
"It is hardly surprising that there was growing resentment against the high level of this tax in the previous decade, particularly when the money flowing to Scotland from Westminster was rising significantly."
He added: "We support the Scottish government's council tax freeze. The journey towards the return to a fairer and more acceptable level of council tax must be continued.
"If not, calls for an even worse local income tax will become loud once again and Scotland's ambition to be an attractive place in which to live, work and do business will be put at risk."
The Scottish government responded to the CBI's comments by stressing that the council tax freeze provided "support for hard-pressed families during difficult times for household finances - and at a time when councils have received an increasing share of the resources available to the Scottish government".
A government spokesman said: "We will listen to views on how to deal with Westminster spending cuts as we consider the report of the Independent Budget Review, and feedback from around Scotland."
Related Internet Links
The BBC is not responsible for the content of external sites.